New Market, Va. — October is the time of year when greenhouse gardeners get serious.
The emphasis changes from simply stretching the growing season to plant survival, ensuring that tender shrubs, vegetables or flowers make it through the potentially lethal chill of winter.
An estimated 7 million American households have greenhouses, according to Bruce Butterfield, research director for the National Gardening Assn. - most use them to overwinter bulbs, perennials and container plants; get an early start on spring with seed trays; toughen plants for transplanting; or even serve as entertainment annexes, places for wine and appetizers or just reading a book accompanied by the sound of rain drumming on the roof.
Roger Marshall, author of "How to Build Your Own Greenhouse" (Storey Publishing), does all those things and more. He also uses one of his two backyard greenhouses for supplementary home heating.
"After about 10 a.m. on a sunny February day, the attached greenhouse gets up to about 80 degrees," Marshall said. "I can open the window between my studio and the lean-to and catch the aromas from trees and flowers along with pulling in some radiant warmth."
Now is an opportune time to clean and winterize hobby greenhouses. That includes disinfecting all growing surfaces; power-washing roof panels and outside walls to remove algae, tree sap and pollen residue; coating the cedar or redwood frames with teak oil or some kind of preservative; and lubricating vent openings and door hinges.
"You need to check your heating system early," Marshall said. "If you don't, you could run into trouble if you need to wait for parts."
Other winterizing suggestions: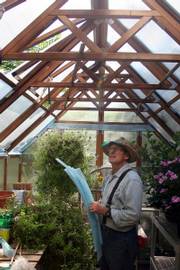 ¢ Install a layer of inexpensive bubble wrap on inside walls and replace broken panes. Secure glass or poly sections to the framework to protect against wind.
¢ Stack insulating bales of straw or hay along exposed walls.
¢ Caulk drafty air spaces. Seal openings around doors and vents with foam tape. Use aerosol cans of foam for plugging holes around electrical boxes or along floors and foundations.
¢ Drain water lines unless you plan to heat your greenhouse through winter.
Different approaches
Many greenhouse growers, including Marshall, operate either warm (night temperatures 65 to 70 degrees) or cold (night 35 to 45), although there are variations (cool, 45 to 50 degrees, and moderate, 55 to 60).
"I run heat into the lean-to in winter, where I have my orchard (of lemon, lime and banana trees) and anything else needing elevated temperatures," Marshall said. "We had enough oranges from our trees last winter to make marmalade, and we grew tired of Key Lime pies."
His freestanding greenhouse, meanwhile, goes unheated, used primarily for growing such tough cool-weather crops as spinach, cabbage and artichokes.
"I can safely harvest until Thanksgiving," said Marshall, who lives in Jamestown, R.I. "By using bubble wrap on the walls and throwing fleece covers over the plants, I probably keep my veggies one to one and a half (plant hardiness) zones warmer than they would be if they were growing in the ground. That means 5 to 10 degrees warmer."
Stale air can be a problem with greenhouses, especially in winter. Warmed air should be circulated evenly to keep pockets of cold from forming around plants near the ground.
"If you use a heater, buy one with a fan on it," Marshall said. "Ventilation is important."
Emergency measures
You can keep energy costs down by using a thermostat to control the heater, said Mike Helle, sales and marketing manager for Sunshine GardenHouse in Longview, Wash.
A generator is a good idea if you value your overwintering plants. Propane or kerosene heaters also are good electricity alternatives, although they should be vented.
"Another emergency step that can be taken is to drain the household water heater and place buckets of hot water in the greenhouse," according to a fact sheet on the Web site Charley's Greenhouse and Garden.
"If the greenhouse starts to freeze, the water will freeze first, and as it does it will release heat. This will give the plants an additional buffer before they start to freeze."
It's also a good idea to have a battery-operated alarm set to go off if temperatures in the greenhouse start to fall.
Copyright 2018 The Associated Press. All rights reserved. This material may not be published, broadcast, rewritten or redistributed. We strive to uphold our values for every story published.