Keith Knabe is spending a lot of time driving a combine these days.
During the past week, the rural Eudora farmer has been harvesting 1,700 acres of soybeans. He estimates it will take another week to finish the job.
"They are probably one of the easiest crops to grow," Knabe said. "You basically just plant them and spray them to keep the weeds down."
Wheat may be Kansas' glamour crop, but in northeastern Kansas, soybeans are more popular with farmers. In Douglas County, it is the No. 1 crop. An average of 36,000 acres of soybeans are planted here each year, according to K-State Research and Extension. An average of only about 8,000 acres are planted in wheat.
"Our climate is decent for soybeans, and we've got pretty good soils for it," said Bill Wood, agriculture agent for K-State Research and Extension in Douglas County.
Knabe and other farmers are feeding a demand for soybeans that has steadilygrown as their benefits to both human and animal health and potential as a biofuel source have become better known.
"Soybeans are pretty versatile," Wood said. "It's an amazing little plant."
More than a fad
At just about any grocery store these days a growing amount of shelf space is dedicated to soy food products. At Community Mercantile Co-op, 901 Iowa, about a third of an aisle is used to display nondairy products, and a major portion of that space holds a variety of soy milks. Other soy products can be found elsewhere in the store.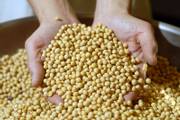 "It's a huge market," said Nancy O'Connor, the Merc's nutrition educator and outreach coordinator.
That market dramatically increased after a 1993 study published in the American Journal of Clinical Nutrition concluded that people who ate 25 grams of soy protein a day had noticeable decreases in blood cholesterol.
The 25 grams was further broken down to 6.25 grams per serving. Just about any food products with that amount of soy had approval from the Food and Drug Administration to use the "heart healthy" product label.
In addition, it was determined that soy could mimic estrogen in menopausal women. It was seen as an alternative to chemical, or pharmaceutical, estrogen replacements.
But eating too much soy or relying on soy to make up for poor eating and exercise habits will not prevent heart disease, O'Connor is quick to note. Just like anything else, too much of one thing can be bad for you.
"Soy foods are not a magic bullet," she said.
Nevertheless, O'Connor doesn't see soy foods' popularity fading as quickly as fad diets have. For one thing, soybeans have been a traditional ingredient for years in more mainstream foods, such as peanut butter, pasta products and breakfast cereals.
"Soybeans have been part of our food culture for a long time," she said. "They are here to stay."
Growing popularity
As soy popularity has increased, so has nationwide production. In 1980, according to the U.S. Department of Agriculture, Kansas produced 23,952 bushels of soybeans, while the United States produced 1.7 million bushels.
Last year, Kansas production was 105,450 bushels. Nationwide, the total was 3 million bushels.
Food for humans, however, is a small part of soybean use.
A soybean is 80 percent meal and 20 percent oil. About half of the soybeans grown in the United State are exported, according to the Kansas Soybean Assn. Of the beans remaining in this country, 94 percent goes into livestock production.
"We have a pretty healthy livestock industry, including pork, beef, poultry and dairy," said Kenlon Johannes, chief executive of the soybean association. "We see that as a big market and a big opportunity, and those markets have been healthy."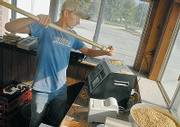 Soy oil is the No. 1 cooking oil in the U.S. It also is being tried as a replacement for petroleum and diesel, where soy use has increased, Johannes said.
Field to market
Once soybeans are harvested, farmers take them to local elevators or directly to soy manufacturing firms, such as Cargill Inc. or Central Soyfoods LLC in Lawrence.
Central Soy's main product is tofu. It delivers to about 60 grocery store co-ops and privately owned natural food stores and expects to soon start deliveries throughout the country, general manager Lori Kruger said.
Central Soy produces about 2,000 pounds of tofu a week, she said. She said production had increased over the years, but exact statistics weren't readily available.
"It's higher than even a year ago," she said of tofu production. "I wouldn't say it's doubled, but it's getting close."
Late last week, soybeans were selling for a little more than $5 per bushel, which is about an average price, said Steve Wilson, owner of Baldwin Feed Co. Though the harvest in this area only began a little more than a week ago, soybean yields were ranging from 20 to 40 bushels per acre, he said.
"It's kind of spotty," he said. "We just didn't have the widespread rain."
Copyright 2018 The Lawrence Journal-World. All rights reserved. This material may not be published, broadcast, rewritten or redistributed. We strive to uphold our values for every story published.