Kansas University is putting together plans to squeeze a potentially lucrative fuel source - and perhaps millions of dollars in funding - from leftovers from harvested corn, soybeans and other crops.
The KU-based Center for Environmentally Beneficial Catalysis is working on applications for grants that would finance continued research into biorefining, which is a process that converts plant materials into renewable fuels, raw materials and power.
The center hopes to generate $10 million - $2 million per year for five years - to finance the work. The goal is to draw additional investments from industry partners including Archer Daniels Midland, British Petroleum, DuPont, ExxonMobil and Procter & Gamble.
The center's five-year, $17 million grant from the National Science Foundation is scheduled to end in 2008, and officials are identifying the most promising technologies for generating replacement financing.
That's where biorefining comes in.
"Obviously, with the price of petroleum being what it is, this technology is becoming more viable," said Kevin Boatright, a spokesman for the KU Center for Research Inc. "The goal here is to use considerably less petroleum to achieve the same results."
The research, led by KU scientists, one day could help companies reduce their reliance on petroleum to produce plastics, chemicals and other materials, said Bala Subramaniam, the center's director and a KU professor of chemical and petroleum engineering.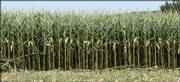 Even if it takes awhile.
"In two to three decades, there will be an increasing shift toward alternative feedstocks, such as biomass, because of the depleting crude oil supply and increasing costs," he said. "The challenge is to develop biomass conversion technologies that are economically viable. Research must start now to make that happen."
The center plans to seek financing from a variety of government sources, including the U.S. Department of Energy, U.S. Department of Agriculture and state agencies.
Copyright 2017 The Lawrence Journal-World. All rights reserved. This material may not be published, broadcast, rewritten or redistributed. We strive to uphold our values for every story published.