Rural Lawrence resident John Pendleton, 50, still recalls the Boys in the Home project that he took as a member of the Meadowlark 4-H Club.
"It was like a home ec for the guys to help them with the basics," said Pendleton, who operates Pendleton's Country Market with his wife, Karen.
He said he learned to mend a holey sock, clean and cook. His favorite 4-H project was photography, and he earned a state award for it. Pendleton said he still uses those skills when he takes pictures of his family and business. He uses photos of his market's plants, flowers and vegetables in PowerPoint presentations when he speaks before other growers.
"I learned what makes a good picture," he said. "Back then the saying was 'film is the photographer's cheapest tool.'"
That meant to take plenty of photos so you could get the best one, he said. Pendleton said in today's digital age, photographers don't even have to worry about the price of film.
Like most former Douglas County 4-H'ers, Pendleton said the life lessons he learned through 4-H have been priceless.
Emily Morehouse, Douglas County 4-H agent, said 4-H was designed to help youths acquire five life skills: nurture a positive self-concept, promote sound decision-making skills, develop positive interpersonal relationships, instill the desire for lifelong learning and develop a concern for the community.
She is hoping youngsters sign up to join 4-H this week during National 4-H Week. There are about 500 4-H Club members in the county.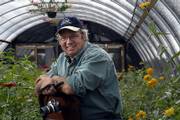 Pendleton said there tends to be pressure for children to be in sports. But very few students use those athletic skills in college and even fewer use them professionally. But, Pendleton said, the skills that children learn in 4-H, such as how to properly make a motion at a meeting, will be used most of their lives.
Said Pendleton: "4-H taught you to look at a goal and figure out how to achieve that goal. It helps you learn how to communicate with others."
Pendleton said he has seen how 4-H helped his three children: Liz, 21, a senior at Kansas State University; Margaret, 18, a freshman at K-State; and Will, 15, a sophomore at Lawrence High School.
John Pendleton described his son as quiet, but said he tends to "shock" teachers when he gives a presentation. He said 4-H helped build Will's confidence to speak in front of groups.
Learning environment
As a teacher, Tara Flory, 31, and a former Four Leaf Clover 4-H Club member, encourages students to join 4-H.
Flory said 4-H provides a safe environment for children to learn new projects such as sewing, cooking or taking care of an animal.
Though she lived in Lawrence, Flory said she enrolled in the sheep project when she was in high school. She kept a sheep at a nearby farm and would visit it every day to care for it. She said the project taught her responsibility.
Flory said she also learned to bake, sew and knit, all things that she practices today. She said she makes home decorations, such as curtains, and has taught friends to knit.
"I am sure I wouldn't be sewing if it weren't for 4-H," she said.
Flory has served on the Douglas County Fair board for about two years.
"It's a way to reconnect with 4-H and give back for all of the years that I gained," she said.
Community work
Volunteer work is typical of former 4-H'ers.
A national 4-H alumni study found that alumni of 4-H, more than any other youth organization, were identified as more actively involved in their communities.
Marilyn Colgan, 52, Lawrence, and a former member of the Lone Star 4-H Club, may have gone overboard.
Colgan, a veterinarian who works for Hill's Pet Nutrition in Topeka, is president of the Douglas County Foundation, community leader for Clinton Eagles 4-H Club and an adult adviser for the 4-H Council.
Colgan said she volunteers her time to share the "4-H experience" with youths.
"The joy of seeing a 4-H'er complete a project can be very satisfying," she said.
She credits taking the veterinary science project for her career. The late Bill Bradley was her project leader, she said, and he had 4-H project meetings in his clinic, where sometimes they got to witness a surgery.
"It gave me greater exposure to the profession; (4-H) certainly does help in the adult world," she said.
Gina Shumann, 40, Lecompton, said being an 11-year member of the Stull Busy Beavers 4-H Club taught her how to be a good citizen.
Shumann volunteers as a community 4-H leader and beef project leader. The mother of four children, ages 4 to 12, also does volunteer work at church and school.
"I was blessed to have 4-H in my life," she said. "It teaches you the rewards of community service. It teaches you that there is more to life than what meets the eye."
Copyright 2018 The Lawrence Journal-World. All rights reserved. This material may not be published, broadcast, rewritten or redistributed. We strive to uphold our values for every story published.