Jalyn Brecheisen, 11, said she probably would cry.
Shelby Sumonja, 10, predicted that she and her friends wouldn't be as athletic.
These are some of the scenarios the children are predicting if a longtime East Lawrence swimming pool, the County Fair Swim Club at Maple Lane and Clare Road, is forced to close.
"There wouldn't be anything to do in the summer," Jalyn said.
But the potential closure of the neighborhood-owned pool is a subject that residents have to confront more frequently than they'd like. Two years ago, neighbors in the area asked for the community's help raising money for new plumbing fixtures.
This summer, the neighborhood is seeking help to put in a new concrete floor to stop the leakage in and out of the pool. So far, they have secured help from a local "pool man," Adam Rose, who has agreed to provide the needed labor, and from LRM Industries, which has agreed to donate concrete at cost.
But the neighborhood still hopes to find someone willing to donate a concrete pump truck and people willing to donate cash. Overall, the project is expected to cost about $4,000.
The 48-year-old pool was donated to the neighborhood by developers Bob, Bud and Al Moore in the 1960s. It's the de facto community pool for dozens of children living within walking distance, including residents of Edgewood Homes and two nearby trailer courts.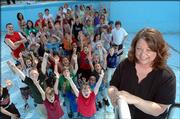 During the summer, a nearby preschool brings up to 40 kids per day.
"A lot of the kids are kids of working parents who, if they didn't have this pool close by, would not have access to other city pools," said Missi Pfeifer, who lives across the street and has managed the pool the last five years. "I have enough money to run the pool. I just don't have enough to do this particular project."
A group of neighborhood residents own shares in the pool, and they sell family memberships at $225 apiece to cover operating costs. Children who can't afford the entry fee are allowed to do chores to earn a day's pass.
Mostly, the pool runs on volunteer labor by local parents.
"We do it for the kids," said Fred Bell, one of a core group of about six people who maintain the pool.
He was at the pool Friday alongside Dale Rorabaugh, the self-described lawn mower, and Trevor Locke, who said he does a little bit of everything in the way of maintenance. The three have children ages 5 through 11 who attend the pool.
Locke grew up attending the pool and brings his children there even though he now lives on the other side of town.
Pfeifer said she hoped to have a new floor on the pool by May 6 so that it could open in time for Memorial Day weekend.
"Once we pour the floor, we still have to paint it," Pfeifer said.
Anyone who is interested in making a donation can send it to P.O. Box 976, Lawrence 66044, or call Pfeifer at 841-5384.
County Fair Swim Club pool
Copyright 2018 The Lawrence Journal-World. All rights reserved. This material may not be published, broadcast, rewritten or redistributed. We strive to uphold our values for every story published.