Alexis Rainbolt doesn't know what she would do during the summer without the swimming pool around the corner from her house.
"I guess I'd just stay inside and do nothing," the 8-year-old said. "I love to play with my friends and go off the diving board."
Alexis is a regular at County Fair Swim Club, a neighborhood-owned and operated fixture in East Lawrence for 43 years.
But time has taken its toll on the little pool at Maple Lane and Clare Road, near Kennedy School. The concrete is cracking, and the plumbing system is giving out. Without major repairs, this could be the last season for the neighborhood swimming hole.
"It needs to be totally redone," said Missi Pfeifer, who manages it. "I don't want to see the pool die."
The pool holds 67,000 gallons of water, making it about one-tenth the size of the Lawrence Outdoor Aquatic Center. It has one diving board and has a certified lifeguard on duty whenever it is open.
Management has been somewhat informal since the pool was constructed and donated to the neighborhood by Bob, Bud and Al Moore, who developed much of the surrounding community.
A dozen neighborhood residents own shares in County Fair, which sells family memberships at $200 apiece to help cover the $6,000 it takes to operate annually.
Neighborhood children whose families can't afford the memberships, Pfeifer said, are allowed to do chores to pay for their admission.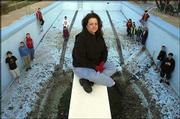 Brad Wilson, 10, is one of those children. He said he often wouldn't have a way to get to the downtown pool, which is about 3 miles from his house, and he doesn't much enjoy going there anyway.
"It's so big and so crowded," he said.
In addition to the family passes, funding for County Fair comes from miscellaneous neighborhood fund-raisers, such as selling cookie dough, having garage sales and doing raffles for donated Kansas City Chiefs and Royals tickets.
"It's never generated enough money, other than what it costs to operate," Pfeifer said. "Nobody has ever made anything on this pool."
That's why the facility's upkeep is difficult to handle.
Pfeifer, who has managed the pool three years, said repairs could cost $75,000, and she's not sure how to raise that kind of money. She's applied for community grants from Wal-Mart and Home Depot and even wrote to Oprah Winfrey in an attempt to raise support.
And while the pool probably will survive this summer, she said it may not operate beyond that.
Missy Sumonja, who also lives nearby and helps with the operation, said the project was especially important considering the activity and supervision the pool provides keeps some neighborhood children out of mischief.
"We have kids who come from the moment the pool opens, and if we're here until 9 or 10 p.m., they'll be here, too," Sumonja said. "It's a life-saver for some of the kids who are not as well attended to as they should be."
Checks to benefit the County Fair Swim Club may be mailed to P.O. Box 976, Lawrence 66044. Donations are tax-deductible.
County Fair has special meaning for Sumonja and Pfeifer, who grew up swimming there. Pfeifer's parents managed the pool during the 1970s and early 1980s.
Pfeifer's mother, Charlotte Hastings, said she wanted to preserve the tradition so children living in East Lawrence in the future could have a neighborhood swimming option.
"Our family's best memories are here at this swimming pool," she said. "I want my grandkids to experience what my kids experienced."
Copyright 2018 The Lawrence Journal-World. All rights reserved. This material may not be published, broadcast, rewritten or redistributed. We strive to uphold our values for every story published.