Every year, in a ritual she was fond of, Amy Wilson would buy another house to blow up.
Luckily for her, the houses were made of gingerbread and were part of the annual Big Brothers/Big Sisters Gingerbread House Auction, which enters its 11th season this year.
Wilson has been a longtime contributor to the annual fundraiser, and she remembers how it brought her family together, though her son occasionally indulged in unforeseen uses of the houses.
"It was definitely a family event. We'd all be working on our houses. My son's greatest motivation was that he would make a house, and then we would buy it, and he would blow it up on the Fourth of July. That's a young boy for you," Wilson says. "That's a family memory that we'll always have; it's fun to think back on and remember."
Wilson, who became involved with the fundraising committee for many years, is an advocate of the organization. She has donated her time and energy almost every year for the past decade.
She participates in the adults' "Ginger" category, where the entries must be made from actual gingerbread. The construction is less difficult than the vision.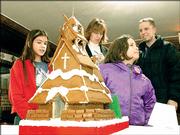 "(Deciding the design) is actually the hardest part. Once I've decided what to do, it's easier. Just because I know it is coming up every year, I am constantly looking for new ideas," Wilson says.
After more than a decade, what tricks has Wilson learned about snaring the crowd?
"My house tends to be very similar every year. I have had a lot of success with my smaller houses, and I just try and take a new little twist on it every year, like changing color schemes."
Wilson's motivation to stay involved comes from trust in the cause.
"I believe in Big Brothers and Big Sisters. That's why I do it," she says. "I love this event. There is stress involved, but it's fun when you finish, and the night of the event it's fun when you see them all selling."
Twice the appeal
If you go
What: Big Brothers/Big Sisters Gingerbread House Auction Public viewing times: 10 a.m.-7 p.m. Dec. 2, 9 a.m.-6 p.m. Dec. 3, 1 p.m.-5 p.m. Dec. 4, 10 a.m.-5 p.m. Dec. 5-6 Live auction: 7 p.m. Dec. 7 Where: Eldridge Hotel, 701 Mass.
Diane Fry is a member of the Big Brothers/Big Sisters committee that spends nearly four months planning the Gingerbread House Auction each year. If it can raise some eyebrows, the event seems to have accomplished at least one of its goals.
"I think it raises awareness and gets people who might not be involved with Big Brothers/Big Sisters involved," Fry said.
The fact that it is a creative event with a sprinkling of competition, however, sets it apart from other typical fundraisers and may attract those with both philanthropic and confectionery personalities.
"There are people who go to Gingerbread and people who go to Bowl for Kids Sake," Fry says. "Gingerbread has always been around Christmas time, and typically people get dressed up."
A long-term player in the organization, Fry has seen the good that the organization provides, and she knows that it is a cause that people believe in.
"It fills a huge void in people," she says. "It gives a lot of kids another adult who can help them with schoolwork and companionship."
Fry finds that many people who get involved with Big Brothers/Big Sisters end up having a connection with the organization for years - some for decades. Fry has been involved with Big Brothers/Big Sisters for at least 15 years.
"You have a desire for whatever reason to give back," Fry says. "A lot of times it's a lifetime relationship. It might start as a community service, but it turns into much more than that."
Megan Smith, a "little" in the Big Brothers/Big Sisters program, is quite familiar with the Gingerbread auction: She made her first gingerbread house entry when she was in kindergarten. She has been participating every year since.
"I think the most fun is designing it and having fun figuring out how to do it," says the Broken Arrow School sixth-grader. "It's always fun to get dirty with icing because then you get to lick your fingers."
Copyright 2018 The Lawrence Journal-World. All rights reserved. This material may not be published, broadcast, rewritten or redistributed. We strive to uphold our values for every story published.