As The Shelter Inc. draws nearer to the mark of its 19th annual Festival of Trees, Judy Culley hopes the holiday season will grant a surprising wish to the company: obsolescence. In an ideal society, she proposes, there would be no need for the child-welfare agency.
"The best thing in the world would be if we worked ourselves out of business, but that's not a likely thing to happen," said Culley, the agency's executive director.
Over the years, however, she and the company's staff have strived to secure their ability to provide aid in the future, which usually consists of crisis intervention, foster and adoption services, and a residential program consisting of two houses, one of which was built with the funds from the festival.
"We want our fundraising to enhance the services we provide, but we don't want it to be necessary on an ongoing basis," Culley said. "We would save it for capital improvements and build a house with it or use it to replace carpet. But we would not use it to keep the doors open."
Entering its 19th year, the event has become a focal point of holiday season philanthropy in Lawrence, drawing together businesses and residents alike, who will spend the morning of Nov. 28 arranging an eclectic evergreen fantasy on the floor of Liberty Hall. For Culley, it's familiar magic.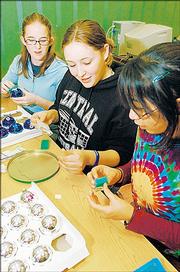 "What I think is probably the most amazing is walking into Liberty Hall on the day we set up," she says. "In the morning there's nothing in there and when you leave - it's kind of like it just sort of metamorphosizes through the day."
In past years the festival has raised nearly $35,000 for the agency, most of it on auction night, where final bids decide the trees' final homes. The tree designers strive long before the auction, however, going head-to-head in a competition of creativity.
Julie Sigourney, of the Golf Course Superintendents Association of America, has firsthand experience with this creative process. Sigourney is a part of the organization's community outreach group, which has five members working on a tree to donate.
"(The festival) is different, it's something that's unique," she says. "It's one of our favorite events to do - instead of just donating money, to see who we're helping and what other businesses in Lawrence are involved."
Sigourney likes seeing the businesses and residents of Lawrence come together at the event to support The Shelter Inc.
"This is the first place I've ever worked that my business has been involved in supporting the community," she says. "It's good to know that there are other businesses in the community that are concerned."
This is the GCSAA's third year donating a tree, and they have managed to turn some heads in the past. Last year, they built a tree from golf clubs and decorated it with golfball ornaments. Sigourney won't describe much about the tree they are building this year but says the team spent hours inventing the design.
"It will be golf-related, and we will be building the tree. We will be using golfballs as ornaments again," she said.
While some, like the GCSAA team, hope to keep their design secret, others hope the buzz from a little rivalry will snare bidders' attention. Linda Hyler, a Central Junior High School teacher, is one of the latter. She and her students are decorating two trees this year: one adorned with KU's colors and ornaments, the other K-State's.
If you go
What: Festival of Trees Display times: 10 a.m.-8:30 p.m. Monday, Wednesday and Thursday, and 10 a.m.-5 p.m. Tuesday Auction: Doors open at 7 p.m., auction starts at 8 p.m. Tuesday Where: Liberty Hall, 642 Mass. Admission: $2 for adults, children get in free
Hyler's students are familiar with The Shelter Inc. because many of the children they serve spend short stints at Central. Hyler guesses that she has had six students so far this year who have come and gone, sometimes staying for a few days. She said her students care, and she hopes to inspire them to engage in community service, showing them that they can make a difference at any age.
"The reason I do this project is that it affects kids their own age - it has an impact - and it is something we can do it in the classroom," she says.
"A high school class I could say, 'Go get in your cars, we're going to go to Habitat for Humanity and hammer for a while.' I can't do those kinds of things with (students) this age."
"I'm trying to get across to them that in America what it means to be a good citizen is we help other people," she says.
Judy Culley shares Hyler's philosophy.
"There are situations that you can't avoid that people need help and you have to be there for. We certainly aren't short on work," she says. "If we were, that would probably be a good thing."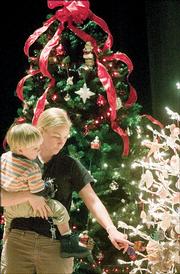 Copyright 2018 The Lawrence Journal-World. All rights reserved. This material may not be published, broadcast, rewritten or redistributed. We strive to uphold our values for every story published.