John Brown, Delaware Indians, Tchaikovsky and mandolins - kind of a motley crew.
These unique elements are part of "A Kansas Nutcracker," a local incarnation of the timeless "Nutcracker" production.
Premiering at the Lawrence Arts Center, this version includes all of the same events as the original, but it was rewritten to follow the historical landscape of territorial Kansas during the 1850s.
"It's a wonderful script that just gives you a flavor of some of the issues of that time," said Candi Baker, dance director at the arts center.
In a diversion from the traditional ballet, the show's first act is designed as a play, and to give it a Kansas touch, the setting is a Christmas Eve barn party.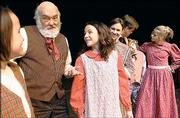 Featuring nearly 140 performers, the play is cast with both professionals and community participants. It's a delicate task to fit them all into the performance, Baker said.
"One of the challenges is to get that many bodies on stage, give them their moment to shine and really do it well," Baker said. "When we moved into this building, we saw this as an opportunity to really do it and do it well."
Now in its fourth year, the show continues to evolve.
"It's just been absolutely a delight to do," Baker said. "Every year has some new surprises."
Ric Averill, writer and drama director for the show, enjoys the changes that accompany each year's performances.
"One of the most fun challenges is that it's grown each year, so we're adding new characters as we go," Averill said.
If you go
What: A Kansas Nutcracker When: 7:30 p.m. Dec. 9-10, 16-17 and 2 p.m. Dec. 11 and Dec. 18 Where: Lawrence Arts Center, 940 N.H. Tickets: $16 for adults, $11 for children, students and seniors
Sarah Bezek, who played Clara two years ago, reprises the role with enhanced duties.
"She's a strong enough dancer now that she'll also dance the role of older Clara," Averill said.
In rewriting the script to include the history of territorial Kansas, Averill worked closely with Deborah Bettinger, artistic director and choreographer for the show.
"We just adapted all of the traditional 'Nutcracker' dances," Averill said. "Instead of being about candy, they're about dreams of Kansas."
Bettinger determined a change of scenery would offer a fresh perspective on the holiday classic.
"We wanted to focus on Clara's life on the Kansas territory in the 1850s and the issues she'd encounter," Bettinger said.
Averill noted that coordination between the artistic and dramatic aspects of the play is essential.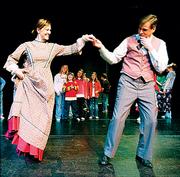 "I timed the entrances of some of the characters to the music exactly," he said. "It was a challenge to write the dialogue so it fit right with the music."
The music was rearranged by Jeff Dearinger, director of the Uptown Mandolin Quartet, to include a 12-piece mandolin orchestra while adding a prairie feel.
"A Kansas Nutcracker" opens Dec. 9.
"They're wonderful, delightful little dancers," said Baker, who is assisting with the choreography.
Copyright 2018 The Lawrence Journal-World. All rights reserved. This material may not be published, broadcast, rewritten or redistributed. We strive to uphold our values for every story published.