John Buehler offers some advice for those who plan to attend the upcoming Christmas Candlelight Vespers at Baker University.
Go early.
Because if past performances are any judge - and this year's event is a special one, the 75th anniversary - throngs of people are expected to attend.
"We'll have people for the 4 p.m. performance showing up at 2:15 p.m. Most of them will be from this area, but there will be a number of alums flying in who have children performing," said Buehler, a professor of music and chairman of Baker's music department.
"I'm surprised at the number of people (alums) who come back year after year - maybe 300 or 400. That's the reason we perform it twice; the church is full each time."
The Christmas Candlelight Vespers will be at 4 p.m. and 7:30 p.m. Dec. 4 at First Methodist Church, Eighth and Grove streets, in Baldwin.
There will be more than just Baker alumni present; people from across the university community typically attend - students, faculty, staff and plenty of other Baldwin residents.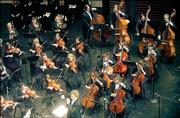 Buehler, who has served as the event's choir director and one of its main organizers for more than 20 years, said he expected each of the free performances, which are open to the public, to attract as many as 650 people.
The hourlong Christmas Candlelight Vespers is made up of performances by 230 to 240 Baker music department students from the school's instrumental, choral and string ensembles, as well as soloists.
"All of this will be Christmas music, and the huge majority of pieces will be sacred music," Buehler said.
"We'll sing 'For Unto Us a Child is Born,' from Handel's 'Messiah'; we'll sing 'O Magnum Mysterium' by Victoria, a 16th century motet; and we'll sing things like Gustav Holst's 'Christmas Day.' But there will also be a number of carols sung and a number of secular pieces."
Christmas Candlelight Vespers is considered one of Baker's most cherished traditions.
"It's a time when the university community gathers before a sacred celebration (Christmas), a sacred season, to set the mood," Buehler said. "Every year, one of the kids from the performing groups comes up to me and says, 'I just met a woman who sang in Vespers 60 years ago.' It's become an event that spans many generations of students here."
If you go
What: Baker Vespers 75th anniversary When: 4 p.m. and 7:30 p.m. Dec. 4 Where: First United Methodist Church, Eighth and Grove streets, Baldwin Admission: free
The Rev. Ira DeSpain attended Christmas Candlelight Vespers when he was a Baker student in the late 1960s (he graduated in 1970), as well as every year since he became university minister in 1992.
"It's a great combination of ancient, sacred melodies and current music that sort of sets the Christmas season off to a good start. It's right at the beginning of December every year, and it's just a great way to put the month and the season into perspective," he said.
His father, Warren DeSpain, performed in the event when he was a Baker student in the 1940s. He graduated in 1949.
"Part of what happens each year is that people who have been in the choir over the last 75 years come back to hear the songs," DeSpain said.
A highlight of each year's performance is the traditional conclusion piece, a combination of "Silent Night" and "Peace, Peace, Wonderful Peace."
Those who are attending the event are always invited to join in during the "Silent Night" part of the song.
"It's an incredibly poignant moment that reminds us that Christmas is the birth of the Prince of Peace, and it's especially important for me, as an individual and a pastor, to contemplate that during a time of war (for the United States)," DeSpain said.
His son, Dan DeSpain, 27, a Marine, has served two tours of duty in Iraq and is now back safely at his California base.
"The (Baker) students turn out for this experience. I always say that the students vote with their feet, and their feet bring them to the Christmas Candlelight Vespers every year," DeSpain said.
"I think they will take away a sense of the real meaning of Christmas, a sense of peace and calm."
Copyright 2018 The Lawrence Journal-World. All rights reserved. This material may not be published, broadcast, rewritten or redistributed. We strive to uphold our values for every story published.