Mark Robbins would love to be wrong about this, but he really thinks that big woodpecker that got everyone so excited in April was pileated, not ivory-billed.
If he's right, the most exciting news in years for birdwatchers would turn out to be merely ho-hum.
"They're both big woodpeckers," the biologist and manager of the Kansas University Natural History Museum said Thursday. "They're both black and white. And you have to look at that distribution of that white and black. ... That's what this is all about - the devil is in the details."
It was national news, playing big in the New York Times, Washington Post and elsewhere, when bird experts said they had spotted an ivory-billed woodpecker alive and well in Arkansas and had video to prove it. Most had thought the bird was extinct since the 1940s.
But Robbins and three colleagues are challenging that assertion. He's co-author of a study that has been provisionally accepted for publication in the Public Library of Science, pending final revisions. A rebuttal defense of the original sighting, printed in Science, also will be published.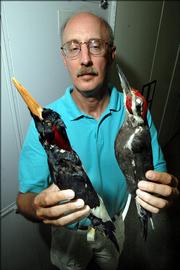 The initial sighting, led by ornithologists at Cornell University, was based heavily on several seconds of video taken in southeastern Arkansas. If it is confirmed, it would be the first sighting since 1944, when the ivory-billed woodpecker was believed extinct because of deforestation.
Robbins declined to give details of his team's argument before the paper is published. However, he said the group looked at video and specimens in KU's bird collection. The university has one ivory-billed woodpecker collected in Florida.
The ivory-billed woodpecker has a black band crossing the white on the underside of its wings. The pileated woodpecker does not.
Other differences between the two birds include the color of beak and color of eyes.
"The (video) evidence they presented is very, very blurry," he said. "This is not a straightforward thing, or it wouldn't be controversial. If they had really dynamite video, we wouldn't be having this discussion."
But the original research team still claims it saw an ivory-billed woodpecker. Van Remsen, a Louisiana State University researcher, told The New York Times his colleagues would provide answers to concerns raised by Robbins and his fellow critics.
"We can counter everything," Remsen said. "We stick to our guns."
Leonard Krishtalka, director of the KU Natural History Museum, agreed with Robbins' assessment. But he said he'd love to see evidence the bird was still alive.
"I think every ornithologist in the world would love to have this bird still alive," he said.
Copyright 2017 The Lawrence Journal-World. All rights reserved. This material may not be published, broadcast, rewritten or redistributed. We strive to uphold our values for every story published.