Washington — Not seen for 60 years, the ivory-billed woodpecker -- called "the flagship of American extinction" -- is alive and soaring through Arkansas' ancient cypress swamps.
In an announcement Thursday termed "a ray of hope" amid gloomy news about Earth's environment, scientists revealed that during the past 14 months veteran naturalists have spotted the largest American woodpecker seven times. They even captured it on a blurry video once.
"It was a spiritual experience," said Gene Sparling, an entrepreneur and naturalist who was the first to see the bird. He spotted the male woodpecker Feb. 11, 2004, while kayaking alone in the Cache River National Wildlife Refuge in eastern Arkansas.
In a later confirmatory sighting, the woodpecker swooped directly over two experienced birders who had accompanied Sparling to find the elusive woodpecker. That caused the startled duo to simultaneously yell "ivory-bill," rock their canoe and scare off the very bird they were looking for.
"The thing just veered away and went flying off through the woods," said one of the two, Tim Gallagher, editor-in-chief of a magazine published by the Lab of Ornithology at Cornell University.
What is just as elusive as the bird, which typically is about 20 inches long and weighs 1 pound, is knowing whether the sightings were of a single woodpecker or several birds.
Dozens of scientists have surveyed only about 5 percent of the 550,000-acre Big Woods where the woodpecker was spotted. But they hope that as many as 30 may be living there.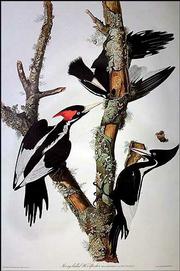 The journal Science on Thursday published a peer-reviewed account of the discovery online. More than 20 scientists have viewed the video and confirmed the sightings, said Cornell lab director John Fitzpatrick, head of the ivory-bill search effort.
The magnificent red-headed bird with snow white patches on its back and tail feathers once soared through much of the southeastern United States before its old hardwood habitat was lost to development and logging. It also was killed and stuffed by collectors.
The Bush administration jumped on the discovery, announcing $10 million to help protect the bird. Another $10 million is being spent by private conservation groups to protect the habitat.
Copyright 2018 The Lawrence Journal-World. All rights reserved. This material may not be published, broadcast, rewritten or redistributed. We strive to uphold our values for every story published.