Area gasoline retailers are cashing in on record gasoline prices - by offering special deals to drive traffic to their pumps.
And cash-strapped customers appear to be buying.
"These high prices are killing me," said Andrea Wright, a hotel housekeeper and single mother of three, who relies on a discount card to save from 2 cents to 6 cents a gallon on fuel purchases. "With the card, at least I feel like I'm saving something. And over time, I'm sure it'll add up."
Such card programs are nothing new - Dillons has been offering discounts with its Plus card for years - but several gasoline retailers are relying on products other than fuel to drive gasoline sales:
¢ Dillons is offering 10 cents off per gallon for every $100 customers spend inside its Lawrence grocery stores. The discount is good for a fill-up of no more than 32 gallons at its fuel center at Sixth Street and Lawrence Avenue.
¢ Hy-Vee continues to tweak its everyday fuel discount, available to customers shopping inside its grocery store. Taking a Hy-Vee store receipt to the neighboring fuel center at Sixth Street and Monterey Way earns a consumer from 3 cents to 15 cents off per gallon.
¢ And Lawrence-based Zarco 66 Inc., which has stations In Lawrence and Olathe, shaves 4 cents to 10 cents off per gallon for customers who also buy a car wash. The higher grade of car wash, the bigger the fuel discount.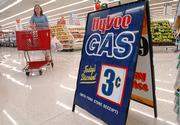 The goal: Give customers a break for spending more money, while pumping up fuel sales in what has become an intensely competitive environment.
"We're seeing an increase in fuel volume and car washes both," said Scott Zaremba, president of Zarco 66. "We're seeing customers buying more fuel. You want to be able to purchase as much fuel as you can when you get the lower price."
Record prices
With gasoline prices reaching record levels last week in Lawrence - and ending the week near $2.59 per gallon - there's little doubt that many customers are seeking the lowest prices. Zaremba says that his car wash sales are up 10 percent since he started pairing them with fuel discounts six months ago, and acknowledges that fuel sales volume is up at least that much during the same period.
Zaremba and other business leaders are doing all they can to make sure their discounts prove effective.
Shawn Brown, store manager of Hy-Vee at 4000 W. Sixth St., said that he had been adjusting his fuel center's strategies ever since it opened early last year. Hy-Vee always has offered an "everyday discount" for customers who buy groceries and other products in the main store, but other options have included:
¢ Tying the size of the discount to the amount of money spent inside; the larger the bill at the grocery store, the larger the discount on fuel.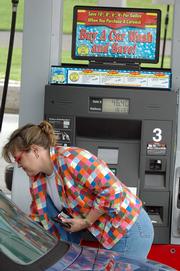 ¢ Providing bonus savings, on top of the everyday discount, for customers who buy specific products, such as a particular type of pie, cut of steak or brand of green beans.
These days Brown has opted to run the "everyday discount" without added offers or changes, other than varying the savings rate between 3 cents and 15 cents, depending on the day.
"Our sales are increasing, and that's not just due to the price of gas," said Brown, whose company added fuel centers to boost grocery sales and boost customer loyalty. "Gas, as everybody knows, is not a profitable business, but : it's obviously a successful tool when we hit the right note. When we offer a larger discount, which we do, it creates a frenzy."
Feeding 'Fuel Frenzy'
The latest offer from Dillons, "Fuel Frenzy," gives grocery shoppers 10 cents off per gallon for every $100 spent inside a Dillons store during a given month. Once the century mark is reached, the discount is applied to the customer's next fill-up at the Dillons fuel center.
Su-Ella McKinzie, a spokeswoman for Dillon Stores in Hutchinson, said that the program had proven popular since its beginning in May. Customers like the idea of saving money on the ever-increasing cost of gasoline.
McKinzie declined to discuss the program's financial returns, but did acknowledge that the latest price environment offered an "opportune time" to offer discounts tied to grocery purchases.
"It's a business decision," she said.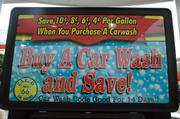 Zaremba, of Zarco 66, is preparing to provide fuel discounts for even more purchases at his locations in Lawrence and Olathe.
Zaremba has people working on new programming for his computer-enabled fuel pumps that would allow Zarco to give customers discounts for making specific purchases in a company convenience store.
The upgrades could come within the next two or three months, he said.
"Say you want to buy a cup of coffee," Zaremba said. "We might give you 2 cents back or 3 cents back per gallon. We want to use the products in the store to provide rollbacks in prices."
Putting in the high-tech pumps wasn't cheap, he said, and increasing discounts can eat into potential sales revenues. But with prices up and competition for customers constantly increasing, he sees such investments as essential for keeping Zarco 66 successful.
"We've been in business for the past 35 years, and we want to be in business for the next 100," he said. "We need to be out front. We're doing it to be proactive."
Copyright 2018 The Lawrence Journal-World. All rights reserved. This material may not be published, broadcast, rewritten or redistributed. We strive to uphold our values for every story published.