Behind Foley Hall, tucked into a valley on Kansas University's west campus, is a hidden oasis for gardeners, nature enthusiasts and butterflies alike.
There, a secret garden and butterfly sanctuary has been created during the past month by the Master Gardeners of Douglas County in cooperation with Monarch Watch.
Visitors are greeted with river, rock-lined paths that meander through the butterfly habitat. One side of the path is surrounded by fields of bright yellow solidago, prairie grasses and other native Kansas plants. On the other side of the path, in the garden itself, there are splashes of crimson salvia, multiple zinnia plants in a rainbow of colors, and purple and mauve butterfly bushes.
A bubbling water feature makes a nice soothing sound as butterflies happily float by in the breeze. In the center of the garden stands a mesh tent crammed full of milkweed plants that is host to hundreds of fat caterpillars, madly inching their ripe, yellow, black-and-cream-striped bodies along the plants, snacking on every little leaf.
They are preparing for their metamorphosis into monarch butterflies. Master gardener Margarete Johnson, who coordinated the garden efforts, has high hopes for it.
"We would like to see it mature and improve through time," she says. "This is only the first month of the garden's existence, but we would like for it to grow and prosper for many years to come."
The garden was created to help master gardener students accumulate volunteer hours and for Monarch Watch to acquire a showplace for a butterfly population. It also has potential benefit for Lawrence gardeners.
"In mid-May, we have a plant fund-raiser. We ask for donations from the public, and in return, we give out five different species of milkweed and about eight other nectaring butterfly plants," says Orley "Chip" Taylor, KU professor of ecology and evolutionary biology, and Monarch Watch founder. "This way people can go home and attract monarch butterflies to their own gardens."
Monarch butterfly gardens need both milkweed and nectaring plants.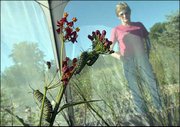 "The butterflies lay their eggs on the host plants, and the only plant a monarch uses as the host plant is milkweed," Johnson says. "The adults then feed off of the nectaring plants once they are in the butterfly stage. Therefore, if you want to see the full process of the monarch, it is suggested that both plants are put into the garden."
For the butterfly garden behind Foley Hall, most of the milkweed was started from seed by Taylor and his students. Powell Gardens, of Kingsville, Mo., donated a few verbena, and Johnson brought some starter plants from her own garden.
¢ Monarch Watch was started in 1992 by Kansas University professor of ecology and evolutionary biology Orley "Chip" Taylor when he noticed very few monarch butterflies moving north. He suggested to some colleagues that they start a tagging program.¢ Feedback has been so positive that there are more than 100,000 people who participate annually, including folks from 37 states, 2,000 schools and a number of Canadian provinces.¢ A public tagging will be Saturday at the Haskell-Baker Wetlands. Several hundred people generally participate and enjoy a day out in nature learning about monarch butterflies.¢ For more information, go to www.monarchwatch.org
The public is welcome to come take a look at the west campus butterfly garden. Johnson also has some recommendations for gardeners who want to lure butterflies to their own botanical oases.
"Good host plants are rue, dill, parsley and fennel; and for the monarch butterflies, milkweed," she says. "Once in adult form, zinnias, salvia, butterfly bush, button bush and wafer ash all lure a butterfly to a space. Keep in mind when creating a garden meant to attract butterflies that they gravitate towards bright colors, and it is often a good idea to group together the same color for an optimal affect."
Taylor has even more suggestions.
"Red salvia and red pentas attract the butterfly cloudless sulfur, which is a big lemon-yellow butterfly that migrates through here each autumn and is quite beautiful," he says.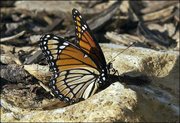 The greatest monarch activity in the Lawrence area is occurring now.
"Generally the monarch population arrives around the 9th, 10th and 11th of September, and the peak of their visit is around September 23rd," Taylor says. "So, get out in the garden and look up to the skies for these winged visitors who are briefly passing through our area."
The time is now to get some plants in the ground that will keep migrating butterflies fueled up for the long trip to the mountains and fir trees of central Mexico.
¢ Milkweed¢ Butterfly weed¢ Fennel¢ Parsley¢ RueSuggested nectar plants¢ Butterfly bush¢ Golden hops¢ Sassafras¢ Wafer ash¢ Button bush¢ Chaste tree¢ Blue mist shrub¢ Gayfeather¢ Verbena¢ Penta¢ Lantana¢ Salvia¢ Zinnia¢ Mexican sunflower
Copyright 2018 The Lawrence Journal-World. All rights reserved. This material may not be published, broadcast, rewritten or redistributed. We strive to uphold our values for every story published.