Starting with the humble beginnings of a hayfield with two trees and a small lake, Ronda and Ed Schulte have transformed their two-acre property into a gentle rolling garden with many trees and flower beds, a healthy vegetable garden and a mini-orchard.
"We built this house eight years ago," Ronda said. "I didn't know anything about landscaping and had no desire to learn about it."
However, she did have a vision for what she was seeking.
"I want this to look like a park," she said.
She was undaunted in her quest even when Ed reminded her that parks generally had a staff of caretakers tend to the garden, and they only had the two of them with help from their son.
Not knowing how to begin their landscaping project, they contacted a professional landscaper for an estimate. The estimate was more than their budget allowed.
"So, I bought a pair of gardening gloves and did it by trial and error," Ronda said.
The entire landscape began with the construction of a fire pit.
"I'm like the Kool-Aid mom," Ronda said, describing how her children and their friends always seemed to gather at the Schulte home for get-togethers.
As a result, the couple thought it would be nice to create a place for bonfires and built a small circular pit in the backyard. She added a few sitting benches and flower beds. Before long, one garden bed was built, then another and then another.
"We started connecting things and that is where it all started," she explained.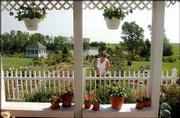 Though the gardens have grown up around it, the fire pit has become the site of an annual ritual for Brett, the Schultes' 16-year-old son. For the past six years, he and his friends gather at the fire pit at the end of the school year to burn their notebooks. The parents have learned to sift through the school papers to rescue items prior to their being pitched into the pyre.
"One year we found a scientific calculator," Ronda said.
The symmetry of the Schulte garden is best seen from their deck. A curved path with stepping stones leads through a large square garden with a tall fountain standing proudly in the middle of it. More stones along a path lead out the back end of the garden to the fire pit.
"The whole idea of the stepping stones was so our friends wouldn't get chiggers," Ronda said.
Many of the flower beds are edged with limestone rocks that had been dug up from a pasture.
"I had permission to get rock from an abandoned property," Ed said. "I had to get several loads of rocks." This year, the couple is experimenting with a curb edging in one area of the garden.
The flower beds are filled with their favorites.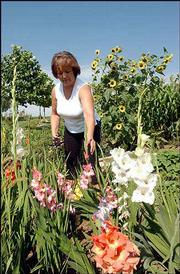 "I like peonies," Ed said. "They're so big and fragrant and a nice bush when they are not blooming."
Ronda is partial to flowering almond bushes, lilies and spirea. And, although much of the garden is bathed in sunlight, young trees are quite evident.
"We have a lot of trees planted," Ronda said. "In 10 years, we'll have a shade garden."
Beyond the flower beds is their latest project, a 16-by 16-foot gazebo that sits near the back edge of their property.
"We also screened it in so we could use it late in the evening without worry about mosquitoes or bugs," Ed said. "It looks more like a bandstand than a gazebo."
A large green space, unbroken by flower beds or trees, sits to the side of the backyard just in front of the gazebo. That open area is the space where their son and two college-age daughters and their friends play volleyball, football, hold Frisbee matches, parties and reunions.
The inspiration for Ronda and Ed's garden came from a 25th wedding anniversary trip they took to Europe.
"We toured a lot of gardens and grounds," Ed said. "It's such amazing landscape."
Ronda said the landscape was a team effort.
"I'm the idea person and he's the rock and mulch person," she said.
Said Ed, "She's always five ideas ahead of me."
Ronda's visions for the garden are doled out one at a time to Ed.
"I have a big picture in my head," she said. "But I can only give him one idea at a time."
Ronda mentioned several more ideas for the garden.
"Don't put that in print," Ed quipped to me, not wanting to be publicly held to it.
So, I'll keep my promise. All I can say is that I'll be interested to revisit this garden in a few years.
Copyright 2018 The Lawrence Journal-World. All rights reserved. This material may not be published, broadcast, rewritten or redistributed. We strive to uphold our values for every story published.