When Donna Masoner and Charles Jones moved their family from an established urban neighborhood with mature trees in Kansas City to 20 acres in the rural countryside east of Lawrence, they quickly became surprised.
For one, heavy clay carpeted the land, not the loamy soil they were used to in their garden. Then, there was the wind, made even more noticeable as it whipped up the rise of land on which their home sat.
"The wind dries everything out," Masoner noted.
Masoner was undaunted, though. Her gardening efforts were undertaken by trial and error and plenty of experimentation.
"I can't tell you all the things I have tried that didn't work," she confessed.
One year, hardy hibiscus fell prey to grasshoppers. And a somewhat thin wisteria vine climbs a post on the back deck, though it has yet to bloom, even after seven years.
Nonetheless, her garden is filled with other Kansas hardy plants, everything from Annabelle hydrangea with balls of white flowers to poppy mallow with delicate deep pink blooms. The tall white blooms of yucca plants flag the entrance to the driveway.
The garden at the front entrance to the home is delightful. A split rail fence encloses this entry garden. "I wanted it to be a cottage type garden," Masoner said. "It felt kind of bare walking to the front door."
A bouquet of colorful and fragrant flowers now welcomes visitors. Floribunda and shrub roses of varying colors and sizes are the mainstays.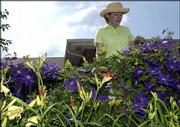 "I don't do hybrid teas because I don't want to do the sprays," she explained.
Although many people argue that roses are picky, so is this gardener.
"If it doesn't say 'disease resistant,' I won't buy it," she said.
Like most cottage gardens, this one is filled with a delicate color palate. Lovely purple clematis vines drape over one corner of the fence. The yellow Golden Years and pink Mystic roses grow among purple salvia and yellow yarrow.
As beautiful as each individual flower is in the garden, she felt the colors of pinks, yellows and blues lacked punch. Her initial dissatisfaction with the color scheme made her experiment. The silver foliage of two artemesias, which have grown to considerable size, was the right touch. "That's what I really needed," she said. "It brought out all the colors."
"When I first started (to garden), I was interested in color and bloom," she said. While color and bloom remain important to her, Masoner has become intrigued with the texture, size and shape of plants. One plant, Petasites japonicus has large saucer-shaped leaves, grows in a little nook under a raised deck and is quite eye-catching. "I can't wait to see what becomes of interest to me next," she said. "I have an idea it will be shrubbery."
"I hadn't realized how much they (shrubs and trees) add to the garden," she said after finding inspiration in the use of shrubs and trees at the Missouri Botanical Gardens in St. Louis. She described trees and shrubbery as the backbone of the garden.
Two curved gardens round out the edges of the back garden. Just beyond these gardens the landscape swoops downhill to the lake. Beyond the lake, vast stretches of field roll to the horizon. "I wanted more of a sense of enclosure with these two beds," she explained. "I have the view and a sense of protection to the lake."
"There's Baby," she said, pointing to a horse grazing in the distance. "He's my biggest help for my flower beds." The help comes in the form of manure, gathered by her teenage children.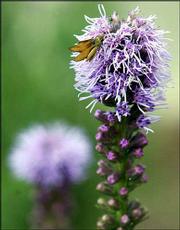 Masoner enjoyed visiting other people's gardens.
"It's interesting how gardens can be so different and so interesting," she noted. "I encourage people to go on tours. You get so many ideas."
Masoner's gardening experience has moved from experimentation to joy.
"The garden is where I can really be present with myself. I can focus," she exclaimed. "I just love it."
Copyright 2018 The Lawrence Journal-World. All rights reserved. This material may not be published, broadcast, rewritten or redistributed. We strive to uphold our values for every story published.