The National Garden Bureau always provides information about new varieties of flowers, bedding plants and vegetables for the upcoming year. Take a look at what's new for 2003. You might find some of them intriguing enough to plant in your garden.
Cannas are always a favorite because of their quick growth and exotic look. Tropical Yellow is a dwarf canna from seed. It reaches a height of 24 to 30 inches and flowers in 90 to 120 days from planting. The Tropical series is naturally branching, making it promising in the garden and in pots. Colors are available in red, rose, salmon and yellow. Look for them in garden centers this spring.
No Kansas summer garden would be complete without salvia. This year try Salvia Blue Angel. It has exceptional ultramarine color and robust habit of 24 inches that will give something extra to the garden. Blue Angel is perfect for summer long color in flowerbeds, larger containers and patio planters or as a delicate splash of color in the perennial bed.
Dichondra Silver Falls presents a cascade of silver. The plant is loaded with tiny silver leaves on silver stems. It is an excellent accent plant for mixed containers and baskets. Because it is a quick growing plant that can grow up to 6 feet, it makes a great groundcover, too. Silver Falls is drought and heat tolerant and should be available at garden centers this spring.
Remember making hollyhock dolls as a child? For a new look, try Hollyhock CrÃme de Cassis. This is a richly colored, heavily veined plant. Single blooms cover this 5- to 6-foot tall hollyhock in early to midsummer. Two- to four-inch blooms of deep black currant are edged in white in cool climates or bright berry with a wide white margin in warmer areas. Seeds are available from Park Seed Company.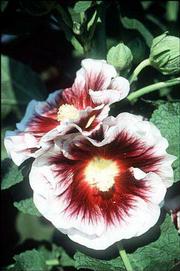 Agastache foeniculum Golden Jubilee is a symmetrical, branching plant with golden aromatic leaves. This annual herb reaches 20 inches in height and spreads 10 to 15 inches. Golden Jubilee produces dense lavender-blue flower spikes among leaves that release a mint fragrance when lightly crushed.
Carnation Can Can Scarlet is one of the most fragrant carnations easily grown in North American gardens and is an All-America Selections Flower Award Winner. The fully double scarlet blooms have a strong spicy aroma with overtones of clove. An exceptional cut flower, Can Can Scarlet will continue to produce blooms throughout the growing season, even during hot, humid weather. The 8- to 12-inch long stems are strong and the blue-gray foliage is desirable in floral arrangements.
Young green plants or flowering pot plants may be available at garden centers. Can Can Scarlet needs a full sun garden location and a moderate soil fertility to reach its maximum garden performance.
Millet is new to the garden arena and a purple-leaved millet is unique. The AAS judges recognized these novel qualities as a breeding breakthrough and awarded Ornamental Millet F1 Purple Majesty it most prestigious honor -- the AAS Gold Medal. From 3 to 5 feet tall when mature, these plants are easy to grow in warm soil. The spike appears golden with pollen then changes to shiny purple when the seed matures. The immature spike can be cut for floral arrangements. The seed spike can be left for the outdoor decorations or used as birdseed. Millet seed is irresistible to many birds. Purple Majesty can be grown indoors from seed, but the leaves will be green. Once they are placed outdoors, the direct sunlight will induce the purple color. Gardeners must be patient and wait for warm soil and warm growing conditions before planting Purple Majesty.
If you want to raise the bar for good taste in salad cucumbers this year, try Sweeter Yet. The dark green fruits are totally non-bitter, "burp-free" and have a very mild sweet flavor. Sweeter Yet reaches maturity in just 48 days and is best harvested when 10 to 12 inches long. The vigorous plants are loaded with strong disease resistance.
Next week, we'll complete our look at the new offerings for 2003.
---
-- Carol Boncella is education coordinator at Lawrence Memorial Hospital and home and garden writer for the Journal-World.
Copyright 2018 The Lawrence Journal-World. All rights reserved. This material may not be published, broadcast, rewritten or redistributed. We strive to uphold our values for every story published.