After buying property with two water gardens on it, Steve and Linda Bruce needed to learn how to take care of them.
So Saturday they were among hundreds of people who showed up for the third annual Lawn, Garden and Home Show at the Douglas County 4-H Fairgrounds, East 21st and Harper streets.
"We're getting educated," Steve Bruce said. "We're talking to everybody we can."
There were several water garden displays for the Bruces and others to see at this year's show, along with flower displays and tips for growing better lawns and gardens.
In the second of two buildings used for the show, Matt and Julia Bellemere, Lawrence, and their children, Will, 2, and Zim, 10 months, browsed through the home-improvement displays.
"We're just getting some ideas," Julia Bellemere said. "It's good family entertainment."
"I found out I could have saved $400 on carpet if I had waited a week," Matt Bellemere said.
Claudia Gies, Tecumseh, said she visited the show every year.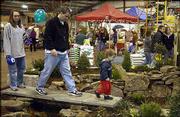 "It's mostly locally owned businesses here, and it's really exciting to see what they are doing," Gies said.
Sharon Hammarlund and Caroline Page traveled from Topeka for the show.
"I live in a trailer court so I can't do a lot of these things, but I can see some things that I can do," Page said.
Jahna Howell, Lawrence, has some advice for parents attending the show with children: After entering the building with the lawn and garden displays, turn left.
Howell and her 2-year-old son, Evan, took a right turn beyond the entrance and came to a display of an electric train chugging through a garden. Evan didn't want to leave.
"This is the first thing we came to, and we've been here for 10 minutes," Howell said.
The Lawn, Garden and Home Show continues from 9 a.m. to 4 p.m. today at the Douglas County 4-H Fairgrounds.Admission is $6. There is no charge for children under 12.
Copyright 2018 The Lawrence Journal-World. All rights reserved. This material may not be published, broadcast, rewritten or redistributed. We strive to uphold our values for every story published.