Julie Holmberg was sampling Native American culture Sunday with a fruit dessert she bought at a first-time event on the Haskell Indian Nations University campus.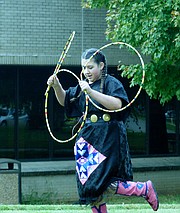 "It's good," she said. "It has blueberries. I don't know what it is, exactly. I got it as the Haskell Alaska Club's table."
The Alaska Club's table was one of about 15 set up on the Haskell campus commons near the gazebo for the school's first Experience Haskell, Native Lawrence event. Holmberg said she decided to come to the campus after seeing a poster on the event in a downtown Lawrence restaurant.
"I'm addicted to Native American jewelry," she said. "I think there might be some jewelry booths in the library."
Holmberg found more than jewelry to hold her interest. The violin teacher said she enjoyed the dances from Haskell's diverse student body, poetry, music and food.
"I really enjoyed the dancing," she said. "I liked that they invited everybody to join them in and dance and share their culture."
That was the goal of what Haskell hopes will become an annual event, said Eric Anderson, Haskell School of Indigenous and American Indian Studies history professor. He was the project director of Experience Haskell, but the students did most of the planning of the day's activities, he said.
Although most of the day's events were on the commons near the gazebo, there were student discussions, art shows and tours slated at other campus venues, Anderson said.
"We just wanted to show everybody all the good things we are doing down here, both culturally and academically," he said. "People tell me they drive by all the time, but they have never stopped. Haskell is a big part of the community, but we kind of get overshadowed by KU even though we've been here almost as long."
As he prepared to take part in one of the dances, Justis Wolfleader, a Haskell sophomore in art from Winnebago, Neb., said he viewed the day as a way to share his cultural traditions with the large Lawrence community. It was important to demonstrate that the many diverse cultures represented at Haskell survive and are a source of strength after European settlers first nearly wiped out Native Americans and United States officials tried to erase all traces of their cultures.
"People don't realize it was once illegal to be a Native American," he said. "At boarding schools, native peoples were beaten for speaking the native languages and forbidden from following their religion or cultural traditions."
There is still a divide within him between his Native American self and his modern self, Wolfleader said. Experience Haskell was a chance to celebrate and share his Native American side, which he said broke out daily in song and dance.
The Lawrence community would be a receptive audience to the day's message of cultural tolerance, Wolfleader said.
"It's pretty diverse," he said. "I always felt pretty accepted here. I'm from a rural area, and I haven't experienced the racism here that I did back home."
Copyright 2018 The Lawrence Journal-World. All rights reserved. This material may not be published, broadcast, rewritten or redistributed. We strive to uphold our values for every story published.