A Boys & Girls Club of Lawrence member has been named the club's statewide Youth of the Year winner.
Jazmyne McNair, a junior at Lawrence High School, was awarded a $5,000 scholarship as part of the honor. The Lawrence club's executive director, Colby Wilson, said he wasn't surprised when McNair was announced as winner.
"Jazmyne has worked really hard, and we are really proud of her," Wilson said in a news release. "She embodies everything that the Boys & Girls Club is about. The difference is how much she has a vision of where she wants to go and what she wants to do in this world."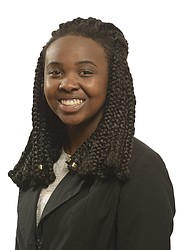 McNair was named the Lawrence Youth of the Year at the local competition in January, where she described how being a part of the Boys & Girls Club has affected her. McNair said she found positive role models at the club, which contributed to her desire to become a teacher and provide a similar example for kids in the future.
"The Boys & Girls Club staff reminded me that what kids have to say is important," McNair said in her speech. "Whether the activity we were doing at the club was educational or just for fun, the staff were being positive examples of how to treat others."
McNair competed against nine other candidates for the Kansas Youth of the Year title Tuesday evening in Topeka, according to the release. A panel of five judges evaluated each candidate based on a timed interview process, three speech presentations throughout the day and essays submitted before the event.
As winner of the state title, McNair will take part in the Southwest Regional Youth of the Year contest June 20 in Dallas. Regional winners are awarded a four-year, renewable scholarship of $10,000, and go on to the national competition.
Copyright 2018 The Lawrence Journal-World. All rights reserved. This material may not be published, broadcast, rewritten or redistributed. We strive to uphold our values for every story published.