Only in Lawrence 2013
The Journal-World asked Lawrenceians to tell us about the unsung heroes in the community, resulting in the annual
Only in Lawrence
feature.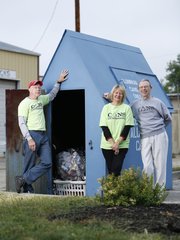 Cans for the Community is literally an "only in Lawrence" organization. There are no other organizations like it anywhere in the country.
At least, not as far as volunteer Linda Klinker can tell, and she's looked. She's tried to find other organizations doing the same thing, and to her genuine surprise, there seem to be none.
It's a genius idea, born of a few steadfast recyclers back in 2005. They thought it would be nice if they could just help people recycle.
"We knew people wanted to recycle, but sometimes it was a challenge. We thought we could make it free and easy for them," Klinker said. She thinks recycling cans is easy, it's just a matter of having the flexibility and time to do it. And that's where Cans for the Community comes in.
The mission is simple: It's a nonprofit organization providing financial support to other nonprofit organizations in Douglas County and surrounding communities by recycling aluminum beverage containers.
Aluminum can recycling saves valuable resources, energy, time and money. Knowing this, Klinker and her environmentally minded friends set out to do some good. They started with a few raw materials and a little seed money from the Douglas County Community Foundation, and they placed some receptacles at key places around the city. Much to their surprise, after five years they'd generated and given away $50,000. The interest in their cause grew, as did the number of receptacles. To date, they've collected more than 8 million cans from 90 businesses and 12 public can houses.
The public can houses can be used by individuals or by smaller organizations. Currently they are in place at Checkers Foods, Cork & Barrel, Dillons on 23rd Street, Dillons on West Sixth Street, the Hillcrest shopping center, both Hy-Vee locations, Immanuel Lutheran Church, Lawrence Memorial Hospital, Miller Mart on Wakarusa, On the Rocks and Trinity Lutheran Church.
The group will place a receptacle in a place of business or at an event and come get the cans, free of charge. Its members then recycle the cans and immediately give 100 percent of the money raised to a charity. The gifts are made in $1,000 increments and the group makes about two of those gifts a month. In August of 2012 the group celebrated hitting the $100,000 mark. Recently, the group has donated funds to Health Care Access Clinic, Centro Hispano, Operation WildLife Inc. (OWL), Friends of the Lawrence Public Library, and The Boys & Girls Club of Lawrence, to name just a few.
Local events are a good place to see and be seen, and the folks at Cans for the Community know this well. They attend large festivals, sporting events and functions and retrieve cans, but they also like to get involved in events and have a little fun. There was a booth at the Earth Day celebration and a float in the Earth Day parade.
Klinker is clearly delighted to be able to give funds so freely to organizations in need.
"We know how difficult and time consuming grant writing is," she said. "We just want to make it easy. We give the money, and the organization can do with it whatever they see fit."
To become a recipient, groups just need to contact someone on the board. The group considers requests on a monthly basis and makes awards based on a show of hands. There is no paperwork or grant reporting. It's just a good-faith donation they make to groups that show good work in the community.
All of this is done by volunteers. There is no office and no paid staff. Group members don't even reimburse themselves for gas or supplies. The board members, who also are the working volunteers, are Delmer Kruse, Kathy Richardson, Linda Lang, Mona McManigal, Will Lunn, Wendell McGaugh, and Linda Klinker. Each one of them does this work as a labor of love. They use their personal vehicles and gas to deliver receptacles, collect cans, and take them to the recycling center. They don't take operating costs out of the funds they raise from recycling, so all of the dollars collected go directly into the hands of local charities.
Copyright 2018 The Lawrence Journal-World. All rights reserved. This material may not be published, broadcast, rewritten or redistributed. We strive to uphold our values for every story published.