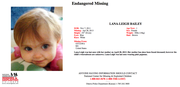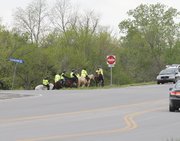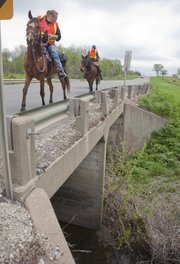 There will be no mass search for missing toddler Lana Leigh Bailey on Sunday, but the investigation continues into the circumstances of her presumed death.
After days of combing the farmsteads and fields around the rural Ottawa property where the child's mother and two men were found dead earlier this week, officers will rest Sunday before resuming the effort — in reduced numbers — Monday. Sunday will see only limited searches, while investigators continue to follow leads elsewhere.
"We're not giving up yet," Franklin County Sheriff Jeff Richards said Saturday afternoon. "Every time we go out, we're hoping that's the spot."
The Franklin County Sheriff's Office and other law enforcement agencies have been searching for 18-month-old Lana-Leigh Bailey this week while investigating the killings of her mother, Kaylie Kathleen Bailey, 21; Andrew Adam Stout, 30; and Steven Eugene White, 31. Their bodies were found Monday and Tuesday in and around a house at 3197 Georgia Road, about five miles west of Ottawa.
Kyle T. Flack, charged Friday with four counts of first-degree murder and other crimes, remains in custody on a $10 million bond.
The search for Lana's body has involved the Kansas City Major Case Squad, FBI aircraft and as many as 150 officers using helicopters, boats, all-terrain vehicles and horses. But when the search begins anew Monday, it will include about 50 officers, and fewer in the future if more time goes by without finding Lana.
The case remains a priority, but the men and women forming the search parties could not continue in full force, Richards said.
"Again, we're on day six," he said. "Just on the exhaustion level, we're not going to be very effective in the field."
The case is taking a toll on the officers, many of them parents, beyond physical fatigue, Richards said. While some searchers have needed medical attention, the sheriff's office has also made chaplains available to the officers for counseling.
"It's tough for people," Richards said.
The scaling down of the search isn't about resources, Richards said, but what is feasible for investigators to accomplish.
"We can't search every farmstead between here and Emporia. We just can't physically do that right now," Richards said.
But even as the search party breaks on Sunday, investigators will follow up on some of the 400 leads generated by the public that have taken them from Emporia to Kansas City and across state lines. And that will continue, Richards said, as long as there are leads to pursue.
"The money, and the cost of something, should not decide how far we're going to go to seek justice," he said.
Copyright 2018 The Lawrence Journal-World. All rights reserved. This material may not be published, broadcast, rewritten or redistributed. We strive to uphold our values for every story published.