Many of those who gathered at Ottawa's Forest Park Friday night were strangers to each other. They walked past each other in tears, hugging old friends and keeping the ones close to them even closer.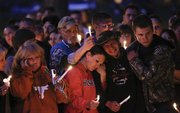 More than 400 people came to light candles together in memory of the homicide victims whose bodies were discovered in rural Ottawa this week. Among them were three families, not close before, who have been brought together by a shocking crime. The crowd swelled further with friends, neighbors, and Ottawa residents looking for a way to heal their community.
"Deep down, there's a lot of hurt," said Scott Dickinson, pastor at Ottawa's Wesleyan Church. "A lot of pain, a lot of questions."
Some of the most troubling questions this week were answered earlier Friday, when Kyle T. Flack, 27, of Ottawa, was charged with murder in connection with the killings at 3197 Georgia Road. The bodies of Andrew Adam Stout, 30; Steven Eugene White, 31; and Kaylie Kathleen Bailey, 21; were discovered Monday and Tuesday, while Bailey's 18-month-old daughter Lana remains missing and is presumed dead, according to the Franklin County Sheriff's Office.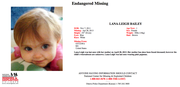 Friends organized Friday's candlelight vigil through a Facebook page now called "Help find Lana-Leigh Bailey" created by Shawna Woods and other high school friends who were desperate to find the young mother and her toddler when they went missing last week.
Woods, looking around at the crowd Friday night, said the people who came reaffirmed her faith in humanity.
"It means a lot," she said. The emotions of the week were still strong. "I'm still numb, in shock and disbelief."
A lot of people were feeling the same way, and one of them suggested some kind of public memorial. Eric Scrutch, of Ottawa, was a friend of Stout and White in happier times and offered to help organize the vigil.
"Within a half-hour, the event was created and it just snowballed from there," Scrutch said. "These four people touched a lot of people, and a lot of hearts."
Friday night, Scrutch sweated over audio equipment, speakers and cables, slideshows, song lists and a schedule of speakers. At times, he seemed too busy to be distraught.
Others took the opportunity to let the tears flow. Brothers, mothers, and other family members wept as they took turns lighting an arrangement of candles spelling one word: "love." They murmured along with music from the sound system Scrutch managed from the park shelter, a setlist chosen by the families. For Stout, they played "Stairway to Heaven," by Led Zeppelin.
After the vigil, questions remained about what happened to those young people at the house on Georgia Road. Pastor Dickinson asked the people gathered to pray for help living without all of the answers.
Copyright 2018 The Lawrence Journal-World. All rights reserved. This material may not be published, broadcast, rewritten or redistributed. We strive to uphold our values for every story published.