Lawrence crime, fire, courts coverage
Have a tip?
Contact Journal-World reporter Caitlin Doornbos: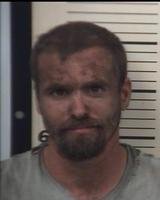 A Jefferson County couple is facing misdemeanor charges after a 29-year-old Nortonville man's car was struck Tuesday night by a vehicle that allegedly fled the scene.
The accident occurred about 9:20 p.m. near Kansas Highway 4 and 110th Street, about three miles west of Perry Lake, in western Jefferson County, said Jefferson County Sheriff Jeff Herrig. Stephen Pemberton, 29, of Nortonville, reported that a 2001 Hyundai two-door car he was driving was struck by a 2003 Chevrolet Silverado that left the scene of the accident. Herrig said Pemberton did not appear to be seriously injured at the scene.
Herrig said sheriff's deputies suspected a Jefferson County married couple of being the occupants of the Silverado and arrested them near their residence about an hour later. "We know them quite well," Herrig said. "We know where they live."
Jonathan E. Clare, 34, and Amber D. Clare, 28, were booked into Jefferson County Jail about 10:30 p.m. Tuesday, according to the sheriff's office. On Wednesday, in Jefferson County District Court, Amber Clare was charged with leaving the scene of an accident and a stop sign violation, which are both misdemeanors, said Jason Belveal, Jefferson County Attorney.
Jonathan Clare has been charged with aiding and abetting and obstruction, also both misdemeanors. It was not clear Wednesday whether either defendant was represented by an attorney.
Copyright 2018 The Lawrence Journal-World. All rights reserved. This material may not be published, broadcast, rewritten or redistributed. We strive to uphold our values for every story published.