After eight months living without running water or electricity in Tanzania, 2007 Lawrence High School graduate Samantha Claypool-Temple received something glamorous: an invitation to see President Barack Obama at the U.S. Embassy.
Claypool-Temple and her husband, Luke Temple, were selected as two of the 25 Peace Corps volunteers invited to hear the president thank about 300 U.S. government employees for their service in Tanzania. Claypool-Temple said the once-in-a-lifetime experience was moving.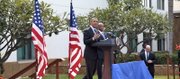 "To be thanked by the president in your host country for your work and service," she said, "that is a memory we will not soon forget."
President Obama addressed the crowd just before his June 2 wreath-laying ceremony with former President George W. Bush honoring victims of the 1998 al-Qaida bombing of the U.S. Embassy in Dar es Salaam. Claypool-Temple said the president's words rang true for her experiences in the African country.
"His best line came when he thanked all the Tanzanian citizens, who are all fellow U.S. government employees, for their work and commitment to helping all the Americans living and working in Tanzania," Claypool-Temple said. "Honestly, without them we would never survive."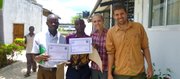 Since October 2012, the Temples have been teaching and organizing villagers on sustainable agriculture and land management techniques as environment volunteers. They have developed organic compost and soil trainings, worked on village chicken husbandry projects and taught health and life skills in secondary schools.
Still, Claypool-Temple says she and her husband are not the only ones teaching in Tanzania. They have picked up a few things from the locals.
"Everyday we learn and see new things," Claypool-Temple said. "Whether it be a chicken in a box sitting next to you on the bus, or an old farmer in literally the middle of nowhere who speaks perfect English because 50 years ago he was taught by a Peace Corps volunteer."
Claypool-Temple, answering questions by email because of limited access to a phone, said that although she enjoys her fulfilling service, daily life in the impoverished country can be a struggle.
"As Peace Corps volunteers, we are expected to live at the economic level of those living around us," Claypool-Temple said. "Running water is the biggest life luxury we miss. In the dry season, which we are experiencing now, it can take many hours to find and carry water home."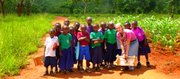 Claypool-Temple was inspired to work overseas during an experience she had during her time at Lawrence High School. The summer after she graduated from LHS, Claypool-Temple went to Kenya on a trip organized by her high school geography teacher, David Platt. Claypool-Temple says the experience shaped her future and her worldview.
"It was the first time I was ever exposed to a culture and place so completely different from my own and for that experience I am thankful," Claypool-Temple said. "Without it, I may never have decided to join Peace Corps."
Claypool-Temple and her husband will return to the United States in December 2014. For updates on their work in Tanzania, follow their blog at https://templesintanzania.wordpress.com.
Copyright 2017 The Lawrence Journal-World. All rights reserved. This material may not be published, broadcast, rewritten or redistributed. We strive to uphold our values for every story published.