Topeka — About 75 people braved the chill during what was called "The People's State of the State rally," to protest a number of Gov. Sam Brownback's policies as the 2013 legislative session started.
The participants, representing more than a dozen organizations, then lined up outside the House and Senate chambers, holding small signs urging legislators who were walking by to fund education and health care.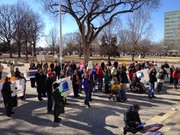 Chanting "Stand up, stand together," the crowd heard from critics of various aspects of the Brownback agenda.
Much of the criticism dealt with the state income tax cuts signed into law by Brownback.
The cuts will benefit mostly the wealthy while leading to revenue shortages and cuts in essential services, the speakers said.
Al Frisby, of Johnson County MoveOn, said Brownback was using Kansans as "research rats," to test business tax cuts.
Lisa Ochs, of the American Federation of Teachers, said, "You can't create a fake budget emergency by slashing taxes for your cronies and then cry poverty when it comes time to fund vital services."
Sherriene Jones-Sontag, a spokeswoman for Brownback, said the governor will outline his budget proposals this week. He has vowed to protect school and social service funding.
Brownback delivers his State of the State speech on Tuesday.
Copyright 2018 The Lawrence Journal-World. All rights reserved. This material may not be published, broadcast, rewritten or redistributed. We strive to uphold our values for every story published.