All gardeners want their flower beds to put on a show. Like any Broadway production, that requires some star attractions.
Stephanie Cohen calls those "plants with bling." And the good news, she says, is that plenty of easy-care native plants have that kind of star power.
Cohen is an author and educator who calls herself the Perennial Diva.
"You gotta have a few stars in your garden every season" — plants with outstanding attributes like color or form that demand attention, Cohen said. They add to a garden what the right scarf or jewelry adds to a basic black dress.
For the divas to stand out, a garden also needs filler plants, which she likened to the chorus. Otherwise your garden would be a little like Beyonce, JLo and Mariah Carey performing an ensemble version of the National Anthem. They'd all be clamoring for attention.
Now that it's garden-planning season, I thought I'd share a few of my favorites from Cohen's list. Prepare to be wowed.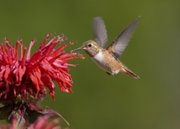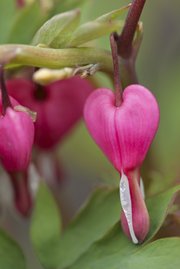 • Velvet Queen wild ginger (Asarum shuttleworthii var. Harperi 'Velvet Queen,' sometimes categorized by the genus name Hexastylis). This plant's dark green leaves with silver markings make for a stunning ground cover.
Unlike more common ground covers, however, wild ginger isn't evergreen. "Get over it," Cohen said. Who looks at ground cover in the winter, anyhow?
• Little Lanterns or Pink Lanterns columbine (Aquilegia canadensis 'Little Lanterns' or 'Pink Lanterns'). Both are shorter columbines — Little Lanterns with red and yellow flowers, Pink Lanterns with pink. These spring bloomers prefer light shade, but Cohen has seen them thrive in full sun.
But beware: "They are promiscuous," she said. They'll cross-pollinate and develop new colors, which she counsels her audience to just accept and enjoy.
• Bluestar (Amsonia). "I've never met an amsonia I didn't like," Cohen said. These sun lovers play two roles in the garden: They produce sky blue flowers in spring, and then their foliage remains attractive all summer and turns yellow in fall. One new variety she especially likes is Blue Ice.
• Fringed bleeding heart (Dicentra eximia). The more familiar form of bleeding heart is a spring favorite of many gardeners, but once it's done blooming, that's it. Fringed bleeding heart, on the other hand, will rebloom if it's deadheaded, Cohen said. She often gets a good flowering in fall.
• Jacob Cline, Raspberry Wine or Pink Lace bee balm (Monarda didyma 'Jacob Cline,' 'Raspberry Wine' or 'Pink Lace'). Gardeners love bee balm both for its appearance and its ability to attract bees, butterflies and hummingbirds, but the plant is susceptible to powdery mildew. The varieties she recommends are resistant to the disease, which creates an unattractive powdery coating and can cause leaves to drop.
• Jeana garden phlox (Phlox paniculata 'Jeana'). Like bee balm, garden phlox often suffers from mildew, but Cohen said she's never had the disease on the variety Jeana. Its individual flowers are very small, but they grow in big, showy clusters.
• Agastache. This plant is a magnet for butterflies and hummingbirds. It can be an aggressive grower, but if deadheaded, it will flower from early summer right on till fall. "What more do you want from a perennial?" Cohen asked.
• Prairie Glow brown-eyed Susan (Rudbeckia triloba 'Prairie Glow'). This newer variety has gorgeous flowers with burgundy, bronze and reddish-orange tones, which is probably why the plant is hard to find. Cohen has two words for her reaction to it: "plant lust."
• Cranberry Crush hardy hibiscus (Hibiscus moscheutos 'Cranberry Crush'). This variety produces big, cranberry-colored blooms from summer to fall. If you grow it, though, be prepared to do battle with Japanese beetles.
"Do not plant these next to your roses," Cohen advised. "You'll commit suicide."
• Fireworks or Solar Cascade goldenrod (Solidago rugosa 'Fireworks' or S. shortii 'Solar Cascade'). Goldenrod brings fall color to the garden, but it's gotten a bad rap, and unfairly so. Many people think goldenrod triggers hay fever, but in fact its pollen is too heavy to be carried by the wind from the plant to your nose. It's ragweed that makes you sneeze, not goldenrod.
Cohen likes Fireworks for its arching habit and Solar Cascade for its smaller size.
Copyright 2018 The Lawrence Journal-World. All rights reserved. This material may not be published, broadcast, rewritten or redistributed. We strive to uphold our values for every story published.