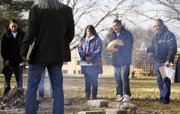 The song he performed was written in memory of the Dakota 38. But Elton Two Hawks said its message could apply to American Indians from any tribe.
"No matter where we came from, all the hardships we all went through ... you've got to learn to forgive," he said. "Let go now."
Two Hawks, a Haskell Indian Nations University student and Cheyenne River Sioux from South Dakota, joined about 20 others circling a fire Monday morning at Haskell for a Dakota 38 Memorial Ride Honoring Event. The school planned to show the film "Dakota 38" at 6 p.m. Monday in the Navarre Hall Regents Room, with a discussion following.
Guest speakers were Jim Miller and Peter Lengkeek of South Dakota, the founder and a regular participant in the annual Dakota 38 Memorial Ride from Crow Creek, S.D., to Mankato, Minn. The 320-mile horseback ride ends on Dec. 26, the anniversary of the 1862 hanging of 38 Dakota (or Sioux), the largest simultaneous execution in U.S. history.
Lengkeek said he grew up around tribal elders who harbored anger and hatred from the hangings, even generations after they happened. On one of the earliest rides, Lengkeek said, white passers-by shouted obscenities and threw trash at the riders from their cars.
Lengkeek said the ride brought people together and that community members now come out to see the riders, offering hot coffee and cookies. He said he wished the same elders were around to "heal" by taking part in the event.
"That's the power of them horses, and that's the power of when our people get together and pray," Lengkeek said.
Lawrence resident Chet Eagleman, a Fort Peck Sioux, rode in last year's Dakota 38 ride and helped organize Monday's event at Haskell.
"Some people still harbor negative thoughts, but the ride really is about reconciliation," he said.
Two Hawks traveled to Mankato last year to greet Dakota 38 riders when they arrived. There, he performed the same memorial song — which his father wrote — that he did Monday at Haskell. Two Hawks played a hand drum while singing the song, as well as a prayer, in Sioux.
A Haskell news release described Monday's ceremony and film screening as an opportunity for students and staff to reconcile and empower themselves as well as explore events of the Dakota War of 1862.
In September 1862, a commission of military officers established by Henry Sibley began trying Dakota men accused of participating in the U.S. Dakota War, according to the Minnesota Historical Society's usdakotawar.org project. Of 392 prisoners tried, 303 were sentenced to death. President Lincoln and government lawyers then reviewed trial transcripts of all 303 men, and when only two were found guilty of rape, Lincoln expanded the criteria to include those who had participated in "massacres" of civilians rather than just "battles." He then forwarded a list of 39 names to Sibley. One got a last-minute reprieve, and 38 were hanged at Mankato on Dec. 26, 1862.
Miller said he was humbled to be at Haskell and encouraged attendees to watch the "Dakota 38" film.
"The old people will tell you, you have to find out where you came from before you know where you're going," he said.
"The other thing is bringing out true history. This is what really happened to our people."
Copyright 2017 The Lawrence Journal-World. All rights reserved. This material may not be published, broadcast, rewritten or redistributed. We strive to uphold our values for every story published.