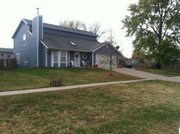 The state has issued an emergency order to close Children's Playpen, a group day care home at 766 Lake St., where Lawrence police discovered what they said they think were drugs and drug paraphernalia.
Related document

Order to close day care ( .PDF )
Kansas Department of Health and Environment Secretary Robert Moser said he determined the order is "necessary to protect children in Licensee's care from a substantial threat to their health and safety."
The day care — which received a license renewal Oct. 1 — is licensed to Tiffany C. Hubbard and is categorized as a "Group Day Care Home."
Early Wednesday morning, the Lawrence Police Department conducted a search of the day care regarding allegations of drugs being sold there. Lawrence Police Sgt. Trent McKinley said the search of the home was part of an on-going drug investigation and that Hubbard was the focus of that investigation.
Police found drugs and paraphernalia and contacted state officials following the search, McKinley said.
Hubbard was not arrested, and McKinley said police are waiting for test results on the drugs — which were sent to the Kansas Bureau of Investigation — before making any arrests. Hubbard has no arrest or conviction record in Kansas, according to a KBI records search.
Police did arrest Edward L. Newton III, 43, Lawrence, who was at the home during the search. McKinley said the arrest was for two out-of-county warrants, and was not related to the drug investigation. Newton was also arrested Sept. 3 for failing to appear in court on a Lawrence municipal case. Newton was released from jail on a $500 bond.
State records show that a complaint about the day care was made in March 2010, but further information about the nature of the complaint was not available.
The emergency shut-down order can be appealed to the secretary of KDHE.
A phone call to the day care went unanswered.
Copyright 2018 The Lawrence Journal-World. All rights reserved. This material may not be published, broadcast, rewritten or redistributed. We strive to uphold our values for every story published.