The experiment is simple: Drop marbles into pans of flour. Describe the result.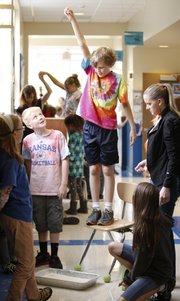 But, wait, what are the independent and dependent variables? The control? How do I formulate my hypothesis?
A hypothesis needs to be testable. And that means, as one fourth-grader explains, you can't have a hypothesis about exotic plants in Arabia because how would you get your hands on one?
The flour test — for exploring how moon craters are formed — was a means of explaining the basics of the scientific method to a group of about 30 kids at Pinckney School last week. Lisa Gotto, with a patient team of fellow volunteers, runs Quest Club, an after-school program about science. Explaining that variables are conditions changed in an experiment — like height or weight of marbles, for instance — was Quest Club's second meeting of the year. The eventual plan is to help the kids in the program put together presentations for the Douglas County Science Fair.
Gotto is a geologist with the Environmental Protection Agency office in Kansas City, Kan., and her daughter Hailey is a fifth-grader at Pinckney.
The Quest Club is a labor of love Gotto took over after its coordinator left the school last year. It's worth the snack organization, handout preparation and herding energetic young ones, she said, for the chance to get them excited about science.
"If I reach one kid, I'll be happy," Gotto said.
Ella Sotomayor might be just the kid. A fourth-grader, she said she wanted to join Quest Club because her reading tutoring cuts into her science time.
"And science is fun!" Ella said.
Fellow fourth-grader Sophia Branden said she likes the "responsibility of doing experiments and keeping safe."
After the flour dust clears, a group of boys discusses their science fair interests — mainly, monkeys. And shaving cream. And monkeys who have shaved.
But studying all that's likely not going to happen. Even Hailey Gotto's natural-versus-artificial light for plant-growing hypothesis might not get put to the test, as the science fair is in limbo.
Anne Wallace used to organize the science fair from the Lawrence school district office. But this year, she became the interim assistant principal at Liberty Memorial Central Middle School, and no one has yet filled the role.
Gotto is waiting for information from the district. In the meantime, the Quest Club will solider on. The next experiment may involve mud.
Copyright 2018 The Lawrence Journal-World. All rights reserved. This material may not be published, broadcast, rewritten or redistributed. We strive to uphold our values for every story published.