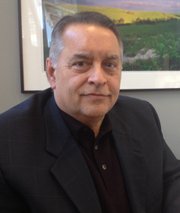 Olathe — The Kansas Bioscience Authority Board of Directors has hired Duane Cantrell, a former president of Payless ShoeSource, as its new president and CEO.
Cantrell is currently managing partner for the retail consulting firm Genus Consulting in Topeka, where he lives. He is also chairman of the Kansas State University Foundation Board of Trustees.
Born in Kansas City, Kan., Cantrell is a lifelong Kansas resident. He graduated from Kansas State in 1978 with a bachelor's degree in economics.
He said after his hiring was announced Tuesday that he saw the job as an opportunity to give back to the state he'd always called home. "I care very deeply about the state and the health of the state," Cantrell said.
Lawrence attorney Dan Watkins, the chairman of the board for the state-funded KBA, said Cantrell became a candidate for the job after he provided consulting on the strategic planning process that the board undertook this past summer.
"He's a strategic thinker, and he's got strong executive experience," Watkins said after a brief board meeting Tuesday afternoon. "And he's committed to Kansas."
Cantrell worked for Payless for 26 years, serving as president from 2001 to 2004. He oversaw about 35,000 employees, he said.
Having spent his career largely in the retail industry, he said, he hopes for the KBA to adopt a more "consumer-oriented" approach with its constituents. "I just think that the KBA has a tremendous role to play in the economic future of the state of Kansas," Cantrell said.
In addition to his other work, Cantrell serves as chairman of the carbon-fiber plastics manufacturer Hiper Technology, and he is also chairman of GTM Sportswear. He graduated from the University of Virginia's Darden Graduate School of Business executive program in 1997.
Cantrell will replace David Vranicar, who had served temporarily as KBA president and CEO since Tom Thornton resigned from the position in April 2011. Vranicar will stay on with the KBA, Watkins said, and he'll be working with Cantrell to determine his specific role.
An audit released earlier this year, called for by Gov. Sam Brownback and state Sen. Susan Wagle, found that Thornton had destroyed documents after his resignation, used KBA funds to pay for a trip to a job interview and failed to notify the board of his relationship with a staff member, among other issues.
During the board's meeting, Watkins said it was time for the KBA to set a new course.
"We functioned well in what I would call a challenging environment, through a pretty exhaustive audit and through answering a lot of questions," Watkins said. "I think we want to bring a new focus to the KBA and its mission and energy. And I think Duane can do that."
He said that a largely new board of directors, along with a new Kansas Legislature set to take office in January, also made the time right for a new KBA leader.
Watkins declined to reveal the salary figures in Cantrell's contract immediately after Tuesday's board meeting. He said the pay would be consistent with a national salary study the KBA conducted, and he suggested that the Journal-World file a records request for the contract. The Journal-World did so Tuesday afternoon.
A three-member subcommittee of the board identified multiple candidates for the CEO job, Watkins said during the board meeting, though it did not conduct a national search.
Also during the meeting, Watkins credited the KBA staff for its performance during the roughly 18-month period between permanent leaders. During that time, he noted, the Kansas University Cancer Center achieved National Cancer Institute designation, the culmination of an effort with which the KBA helped.
Copyright 2018 The Lawrence Journal-World. All rights reserved. This material may not be published, broadcast, rewritten or redistributed. We strive to uphold our values for every story published.