State Sen. Marci Francisco, D-Lawrence, on Tuesday won re-election, defeating Ron Ellis, a retired teacher and cattle rancher from Meriden. Francisco was ahead 67 percent to 33 percent in incomplete returns.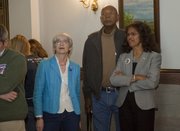 In seeking her third term in the Senate, Francisco, a former mayor of Lawrence, said she would propose legislation scaling back the massive tax cut that Gov. Sam Brownback signed into law.
A portion of that tax-cutting package will exempt the owners of 191,000 partnerships, sole proprietorships and other businesses from state income taxes.
Francisco says she will propose limiting the pass-through business income tax exemption to the first $100,000 of nonwage income.
"I hope there is a willingness to go back and look at the tax measure," she said.
While many of the Senate races featured sharp contrasts on policies, Francisco and Ellis agreed on several major issues.
Like Francisco, Ellis said the Brownback tax cuts cut too deep. And Ellis and Francisco also said that recent state budget cuts to schools needed to be restored.
Ellis said he saw first-hand in the Oskaloosa school district how those cuts led to larger class sizes, employee layoffs and staff reductions through leaving open positions vacated by retirements.
This was Ellis' first run for elective office, but he had been active for years in Republican Party politics, working for the election of GOP candidates, including Brownback. The Kansas Chamber of Commerce had endorsed Ellis in the race.
Under the new district lines, a large portion of the 2nd District moved north into Jefferson County, but the major population was in Lawrence.
Hoarse from campaigning, Ellis said it was difficult for a person not from Lawrence to win the district. He said he was glad that the race had been respectful. "I wish her well," he said of Francisco. "Hopefully we'll get more funding for education," he said.
Copyright 2018 The Lawrence Journal-World. All rights reserved. This material may not be published, broadcast, rewritten or redistributed. We strive to uphold our values for every story published.