Washington — President Dwight D. Eisenhower's family welcomed design changes by architect Frank Gehry for a memorial honoring the World War II general but said Wednesday that any monument should be "simple, sustainable and affordable" to honor his values.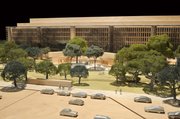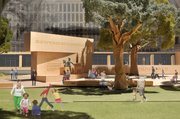 In a joint statement from Eisenhower's son and grandchildren provided to The Associated Press, the family offered its first reaction to changes in the national memorial design that Gehry announced May 15.
The family continues to oppose the use of large metal scrims to frame a memorial park near the National Mall. Gehry has called them tapestries that would depict the landscape of Eisenhower's boyhood home in Kansas. The scope and scale of the images woven in metal, though, remain "controversial and divisive," the family said.
In Gehry's design changes, images of Eisenhower carved in stone would be replaced with 9-foot-tall statues depicting Ike as World War II hero and president. The statues would show General Eisenhower with soldiers before the D-Day invasion of Normandy, France. As president, he would be shown with his hand on the globe. There is also a life-size sculpture of a young Eisenhower looking out at what his life would become.
"From our perspective, many of the changes that Gehry Partners made to the design concept are positive and welcomed," the family said — but added that more time is needed to break an impasse over the metal scrims.
"Not only are they the most expensive element of the Gehry design, they are also the most vulnerable to urban conditions..." the family said. "This one-of-a-kind experimental technology, which serves as the memorial's backdrop, is impractical and unnecessary."
The family said it does not support a design that uses the metal scrims, doubting how long they would last.
Still, a spokeswoman for the presidentially appointed Eisenhower Memorial Commission said Wednesday that the panel is happy the family is supportive of the new design.
"In defining what their problem is with the tapestries, they seem to be talking more about the environment and sustainability," said Chris Cimko. Those concerns are "shared concerns" and subject to ongoing, rigorous testing by independent laboratories, Cimko said.
Earlier in May, Gehry seemed determined to protect that feature as part of the overall concept. Designers from his firm were photographing Kansas landscapes to develop the final images. His firm is also testing materials against corrosive conditions.
"Eisenhower was so proud to grow up in Kansas — leaving out this imagery would mean omitting an important part of his story," Gehry wrote to the Eisenhower Memorial Commission, which includes lawmakers from Kansas and elsewhere.
Members of the commission at a meeting May 15 all voiced approval of Gehry's design but put off a formal vote.
U.S. Secretary of the Interior Ken Salazar, who oversees national memorials through the National Park Service and has met with the Eisenhower family, said Wednesday that the design must reflect the vision of memorial organizers, the family and the American people so it can "stand the test of time."
"Though it is important to move forward as swiftly as possible, our priority must be in getting it right," Salazar said. "If more time is required to get it right, so be it."
The 12-year-old memorial effort will rely on private fundraising and money from Congress. Organizers hope to complete it by 2015 at a cost of about $142 million.
On Wednesday, the family thanked the famous architect for being responsive to objections.
In an interview, Susan Eisenhower said adding statues would draw attention to the 34th president's accomplishments. Other elements are innovative for today — namely the woven metal — but aren't designed for the ages, she said.
"It's America's memorial and our gift to future generations," she said. "If this doesn't get completed in my lifetime, I'm OK with that as long as we've got the right process in place."
The nation's economic downturn "ushered in a new era" for 21st century memorial projects, the family said, along with the need to reconnect with Eisenhower's values of celebrating things that are simple, sustainable and affordable.
The design debate reminded Susan Eisenhower of a passage in her grandfather's farewell speech from the White House.
"As we peer into society's future — you and I and our government — we must avoid the impulse to live only for today," Eisenhower said, "plundering, for our own ease and convenience, the precious resources of tomorrow."
Copyright 2018 The Associated Press. All rights reserved. This material may not be published, broadcast, rewritten or redistributed. We strive to uphold our values for every story published.