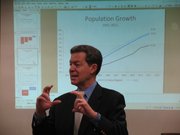 Topeka — Gov. Sam Brownback on Wednesday expressed optimism that the Legislature would approve income and business tax cuts during the current session.
Meanwhile, a legislative memo indicated the state would need to add within two years more than 420,000 new workers to spend money on goods and services to make up the $829 million in lost revenue from tax cuts under a proposal approved by the Senate. The state currently has a labor force of about 1.5 million people.
Speaking to the National Federation of Independent Business-Kansas, Brownback said his main goal is to reduce personal income tax rates and remove taxes on nonwage income for nearly 200,000 businesses.
He said 19 countries have adopted a similar approach, and their economies have grown.
The House and Senate have approved bills that accomplish Brownback's general goals but in different ways. A conference committee of House and Senate tax leaders is meeting to work on those differences. The legislative memo addressed the Senate plan.
Democrats, who are vastly outnumbered in the Legislature, have opposed Brownback's plan and those passed in the House and Senate, saying they would increase the tax burden on low- and middle-income Kansans, while giving wealthy Kansans and businesses big tax breaks. The huge reductions in tax revenue, they argue, would rob schools, social services and public safety of needed funds. Democrats have pushed for property tax decreases.
Brownback told the NFIB he would like to see property taxes go down, but that wouldn't grow the economy.
On another issue, Brownback said the Legislature should leave illegal immigration to the federal government.
Some Republicans want to debate proposals drafted by Secretary of State Kris Kobach, who helped write tough immigration laws in Alabama and Arizona. And other Republicans back the Kansas Chamber of Commerce's plan to allow illegal immigrants to work in some hard-to-fill jobs.
"I think it's primarily a federal issue," Brownback said.
Copyright 2018 The Lawrence Journal-World. All rights reserved. This material may not be published, broadcast, rewritten or redistributed. We strive to uphold our values for every story published.