Topeka — Gov. Sam Brownback, employers and educators on Thursday declared a new era in career and technical training in Kansas.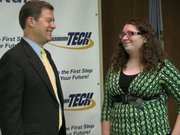 Brownback visited the Washburn Institute of Technology to tout a new state program that will pay the tuition of high school juniors and seniors who take qualified technical courses offered at Kansas technical and community colleges.
The goal, he said, is to get a higher skilled workforce and help Kansans earn more money, perhaps as they continue to stack up more industry credentials and higher education.
"I hope parents will look at this and say `Here is another option for my child to be able to work their way through college,' " Brownback said.
The $20 million program, which begins this school year, will also provide school districts $1,000 for each high school student from that district who gets a technical certificate in a high-need occupation.
A list of high-need occupations set by the state includes bus and truck mechanics, diesel engine specialists, carpenters, electricians, computer specialists, cement masons, concrete finishers and others.
Olivia Schwyhart of Lawrence went to Washburn Tech last year for graphic technology while she was finishing school at Perry-Lecompton High School. In December, she won the top award in a state pin design contest.
"It's a really great opportunity for anyone to get a head start on their career or get a head start on college," she said.
The Career and Technology Act was approved by the Legislature and signed into law by Brownback in May.
Copyright 2018 The Lawrence Journal-World. All rights reserved. This material may not be published, broadcast, rewritten or redistributed. We strive to uphold our values for every story published.