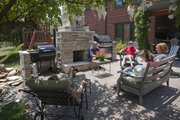 Terry and Sheila Wildeman's outdoor kitchen and living space at their home south of Lawrence is something that just sort of grew.
"One day we were sitting outside on the patio, and I said we should think about making the patio bigger," said Terry.
"I thought it would be cool to have a fireplace," said Sheila.
That little push was all Terry needed. Within months, Terry, a carpenter and owner of Wildeman Home Remodeling, built a fireplace complete with spaces for a grill and a smoker.
Terry then suggested that they put in a swimming pool for their three children, Morgan, Garrett and Ashley.
"At first Sheila pooh-poohed the idea, but after she ran the kids to the pool a couple of times (a 25-minute trip each way), that was all she needed!"
Five years ago, Terry installed a pool and built a surrounding deck. A small fountain came next.
"Then one day I was out here grilling," said Terry, "and I thought that what we really needed was some running water."
Sheila added, "When he said that, I thought it would be nice to have a bar and an ice maker to make margaritas."
You can guess what happened next: Terry built a kitchen, complete with sink, refrigerator, lights and a fan.
"The wood is all cedar, and the sides are stone to withstand the weather," says Terry, "and the countertop is slate so it's practically indestructible."
"It's nice that it is partially covered," says Sheila. "This way we get to enjoy the space even when it's raining."
And enjoy it they do. Every weekend Terry can be found outside using either his grill or smoker.
"Terry has a reputation for trying just about anything, and he's eaten some wild eating foods," says Sheila.
"I've eaten rattlesnake, snapping turtles, doves, pheasants and rabbits," says Terry, "but I'd never get away with making that stuff here … I couldn't even tell the kids that we had buffalo burgers the other night!"
What Terry does use his grill and smoker for is chicken, turkey, pork roast, brisket and kielbasa.
"Ashley likes the pork," he says, "and Garrett likes the twice-baked potatoes — and there is nothing like a twice-baked potato just out of the smoker!"
But the food for which the Wildemans are, perhaps, best known is their Cream Can Cooking — "Real hillbilly style!" says Terry — a meal prepared and cooked in an eight-gallon milk can. And the Wildemans make it every Fourth of July.
Last year, more than 100 people converged on their three-acre property for their annual celebration that, like their outdoor living space, seems to get bigger every year.
To accommodate their growing parties, and their growing children, the Wildemans decided to add on to the inside of their home as well, and a couple years ago and they created a downstairs playroom accessible to the outside through sliding glass doors. The room has a bar, pool table and pingpong table.
"It's nice for the kids," says Terry. "Kids come out here and we don't have to worry."
As you might expect, the Wildemans are already planning their next addition.
"We are going to put in a shower and an outdoor waterfall," says Sheila.
Recipe: Cream can cooking
Terry and Sheila Wildeman shared their Fourth of July speciality.
You will need an eight-gallon milk can.
Fill bottom with a layer of Polish sausage, then a layer of potatoes cut into quarters, layer of corn on the cob, layer of baby carrots, and one cabbage and one yellow onion cut into quarters and layered on.
Repeat the process until the can is full.
On top, pour 6 cans of beer ("It has to be Coors!") and 6 cans of water.
Put the lid on and steam cook for one hour.
Feeds 40 adults.
Copyright 2018 The Lawrence Journal-World. All rights reserved. This material may not be published, broadcast, rewritten or redistributed. We strive to uphold our values for every story published.