Prison inmates across the country are getting older, and more expensive, for states and the federal government, according to a report released Friday by Human Rights Watch.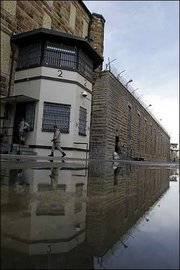 And Kansas is no exception.
Since 2000, the percentage of Kansas inmates 50 and older has nearly doubled, from 8.7 percent to 14.9 percent in 2010. That amounts to more than 1,300 Kansas inmates, including 149 older than 65.
The Human Rights Watch report detailed several problems with the graying of the inmate population, and rising medical costs are at the forefront. While the average annual medical care costs for inmates is about $5,400, that doubles as inmates reach age 55. For inmates 80 and older, annual costs reach about $40,000.
"The corrections officials are scrambling," said Marc Mauer, executive director of the Sentencing Project, a national prison reform advocacy group.
Kansas Department of Corrections Secretary Ray Roberts, at a November meeting of the Joint Commission on Corrections and Juvenile Justice, highlighted the increased needs of the state's geriatric prison population. Roberts said 470 older Kansas inmates currently require daily living assistance.
The main reasons for the trend, said Jamie Fellner, author of the Human Rights Watch report, are the long sentences, including life without parole, that have become more common in recent decades, boosting the percentage of inmates unlikely to leave prison before reaching old age, if they leave at all. About one in 10 state inmates is serving a life sentence; an additional 11 percent have sentences longer than 20 years.
The report said the number of aging prisoners will continue to grow unless there are changes to tough-on-crime policies such as long mandatory sentences and reduced opportunities for parole.
"How are justice and public safety served by the continued incarceration of men and women whose bodies and minds have been whittled away by age?" Fellner asked.
One of the problems facing prisons is that many of their health care staff lack expertise in caring for the elderly, according to Linda Redford, director of the geriatric education center at the Kansas University Medical Center.
"It's a big struggle for them to keep up," said Redford, who has helped train prison staff and inmates in geriatric care.
"They're used to having to deal with issues of younger prisoners, such as HIV and substance abuse," she said.
Copyright 2018 The Lawrence Journal-World. All rights reserved. This material may not be published, broadcast, rewritten or redistributed. We strive to uphold our values for every story published.