Topeka — Legislators on Thursday applauded the Kansas University School of Pharmacy after hearing a presentation by Val Stella on cancer drugs and other medicines being developed there.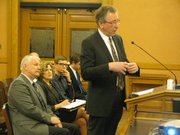 "We talk about economic development, but the bottom line is we are saving lives," Stella, a distinguished professor of pharmaceutical chemistry, told the Senate Commerce Committee.
Stella reviewed several major drugs developed at KU over the past several decades.
"What an exciting story," said Committee Chairwoman Susan Wagle, R-Wichita.
With recent expansion, the pharmacy school has increased its enrollment from 105 students per year to 170 students per year.
Pharmacy School Chairman Ken Audus said that in two of the last three years, the school has brought in more than $20 million in federal research, he said. The school ranks in the top five in the nation in National Institutes of Health funding.
Copyright 2018 The Lawrence Journal-World. All rights reserved. This material may not be published, broadcast, rewritten or redistributed. We strive to uphold our values for every story published.