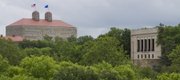 Subscribe to the email edition of Heard on the Hill and we'll deliver you the latest KU news and notes every weekday at noon.
Your daily dose of news, notes and links from around Kansas University.
• In a big loss for KU, communication studies associate professor Nancy Baym is leaving the university to take a position with Microsoft Research New England as a principal researcher, as she announced on her blog, Online Fandom.
Baym conducts research into social media and online communication. In addition to several publications that you can see on her website, her work has garnered her mentions in several major media outlets, including the New York Times.
Heard on the Hill wishes her good luck in her new post.
• Speaking of KU folks getting a mention in the New York Times, here's another one for you.
William Woods, a KU professor of geography, was interviewed for a story on Amazonian carvings.
Woods is studying geoglyphs in the Brazilian state of Acre. He was speaking on the topic of what the landscape in the area looked like in the days before Columbus. Though scientists oppose massive burning of the forests in the region, the article says, they say that long ago, much of the forest was cleared by the inhabitants of the region, replaced with big stretches of grassland.
"If one wants to recreate pre-Columbian Amazonia, most of the forest needs to be removed, with many people and a managed, highly productive landscape replacing it," Woods told the newspaper.
"I know that this will not sit well with ardent environmentalists, but what else can one say?"
• The KU School of Engineering has hired a new associate dean. JoAnn Browning, professor of civil, environmental and architectural engineering, will be the new associate dean for administration in the school.
In that role, according to a KU announcement, Browning will help manage growth in enrollment and expansion of facilities at the school, and meet assessment demands associated with the Engineering Growth Act, a state measure to produce more engineering graduates in the state.
Browning is the first woman to serve as associate dean in the school, and joins two other associate deans — Glen Marotz and Robert Sorem.
She takes over a position that had been vacant since Robert Zerwekh retired from the school in 2009. He had primarily been tasked with overseeing the engineering management program at KU's Edwards Campus.
• I think there should be some kind of associate dean for Heard on the Hill. I have no idea who that would be, but it'd probably be the person who sends the most tips to ahyland@ljworld.com.
Copyright 2018 The Lawrence Journal-World. All rights reserved. This material may not be published, broadcast, rewritten or redistributed. We strive to uphold our values for every story published.