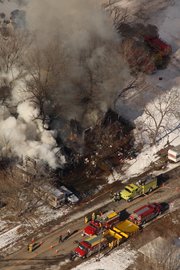 Fire consumed a Michigan Valley home Friday morning and quickly spread to another residence and a nearby mobile home.
The fire in the 200 block of Michigan Road was first reported at 10:14 a.m. Friday. By 2 p.m., all roads into the community of Michigan Valley were blocked off except to emergency vehicles. Firefighters from five Osage County fire districts responded and continued to work on the scene into the afternoon.
Michigan Valley is on the east side of Pomona Lake, about 18 miles west of Ottawa.
Copyright 2018 The Lawrence Journal-World. All rights reserved. This material may not be published, broadcast, rewritten or redistributed. We strive to uphold our values for every story published.