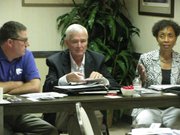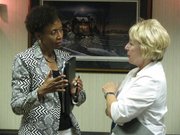 Fall River — Kansas University Chancellor Bernadette Gray-Little on Wednesday pushed down talk that KU is looking at starting a medical school in Pittsburg.
In a discussion with the Kansas Board of Regents, Gray-Little was asked by two regents whether there was any truth that plans were being discussed to add a medical school campus in the southeast Kansas town.
"I have heard that Pittsburg may be the next place," said Regent Dan Lykins of Topeka.
Gray-Little said she heard that, too. But she said there are no plans under discussion to add another campus in addition to KU's already existing medical school campuses in Kansas City, Kan., Wichita and Salina. In fact, she said, KU needs to focus more on nailing down a stable funding source for Wichita.
But Regent Ed McKechnie of Arcadia pressed Gray-Little further, saying some at KU have talked about the possibility of a medical school campus in Pittsburg.
"We need to have clarity of what the plan is," McKechnie said.
Gray-Little said there is no active plan to develop a future medical school campus in Pittsburg.
The discussion occurred during the board's three-day retreat at a hunting resort.
Regents were also interested in what the schools were doing to enhance online and long-distance learning opportunities.
Gray-Little said there would be an expanded number of master's level degree programs online.
"The big question is whether we will be active in offering undergraduate degrees online," she said. KU officials continue to study this issue, she said.
Pittsburg State University President Steve Scott said online offerings are becoming more important "to serve students who are behind or want to get ahead." He said the school has increased its online courses "organically" by giving faculty members the tools and training and letting them drive the system.
Wichita State University President John Bardo said his school would focus on long-distance learning in specializations to benefit adult learners, particularly students who are in the military.
During her presentation, Gray-Little went over KU's "Bold Aspirations" plan, which calls for increases in retention and graduation rates and research funding and national rankings.
Under the plan, KU will increase its rate of retaining freshman students to the sophomore year from 80 percent to 90 percent in 10 years.
"That is a very, very substantial change and is difficult to do, so it will take a long time to do that," she said.
Gray-Little went over recent successes at KU, such as the National Cancer Institute designation and the launch of the RedTire program by the School of Business that matches retiring business owners with entrepreneurial graduates of any regents institution.
"The campus is alive and well and I think upbeat," she said.
Copyright 2018 The Lawrence Journal-World. All rights reserved. This material may not be published, broadcast, rewritten or redistributed. We strive to uphold our values for every story published.