Topeka — A convicted murderer who escaped from a county jail in Kansas after being transferred from an overcrowded state prison has been caught, the state Department of Corrections said Friday.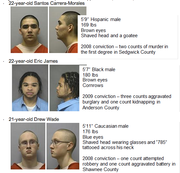 Santos Carrera-Morales, 22, was arrested in Russell, Kan., about 80 miles from the Ottawa County jail, around 11:30 p.m. Thursday, the department said in a statement. No other details were immediately available.
Carrera-Morales and three other men escaped from the jail in Minneapolis, a small town about 120 miles west of Topeka, on Wednesday, sparking a furor that prompted the movement of the remaining 18 state inmates at Ottawa County back to the state prison in Ellsworth.
Corrections department spokesman Jeremy Barclay applauded the Russell city police for their help in the arrest of Carrera-Morales, who he said was taken straight to Ellsworth Correctional Facility. Barclay said no one was injured in the arrest.
Of the four men who escaped Wednesday, one was apprehended soon after and another, 21-year-old Drew Wade, turned himself in at a Walmart in western Nebraska the same day after his father counseled him to do so. A fourth inmate, 22-year-old Eric James, who was convicted of aggravated robbery, burglary, kidnapping and criminal damage in 2008, remained at large Friday.
Carrera-Morales was convicted of two counts of first-degree murder in 2007.
On Thursday, Barclay told The Associated Press that the department was reviewing its policy on inmate transfers to Ottawa County — one of four county jails that accommodates prisoners from overcrowded state facilities.
"We are reassessing our jail placement in Ottawa County right now, just during this period," he said. "This is an interim step while the investigation is taking place."
The department said that as of Wednesday, it housed 88 male inmates in four county jails under contracts paying the counties an average of $40 a day per inmate. The state had another nine inmates who are nearing their release from prison in a work program in Johnson County.
County lockups apply to the state but must pass an inspection that includes a review of training and facilities. An Ottawa County website said its jail can house 60 offenders and opened in 1996, listing eight corrections officers on its staff.
Sheriff Keith Coleman told Associated Press Radio the inmates used homemade knives to overpower two guards, get into the jail's control room and unlock doors. He said the four had been in the same area of the jail for less than a week before the escape.
"They didn't have a lot of time to plan," he said. "We have different rooms in the facility, and they weren't all together for a very long time."
Sending inmates to Ottawa County allowed the state to keep the population at the Ellsworth prison, about 50 miles to the southwest, below its capacity of 818 inmates. As of Wednesday, the state had 8,660 male inmates, exceeding its bed space by 218, or 2.6 percent.
"It's time for a dedicated discussion about the needs of public safety and what it costs to run a system," Kansas Attorney General Derek Schmidt said in an interview.
The prison system's budget has declined in recent years as the state has faced financial problems. The current budget for the department and its prisons is about $274 million, down from $293 million four years earlier.
But lawmakers are considering proposals to increase prison space. The Department of Corrections wants to buy a boys' home in Ellsworth and convert it into minimum-security prison space for 95 inmates. Gov. Sam Brownback has proposed reopening corrections camps in southeast Kansas that closed two years ago and converting them to housing for 262 geriatric inmates.
Both proposals would allow the state to shuffle relatively low-risk offenders out of other space, opening up those beds.
Rep. Virgil Peck, a Tyro Republican who's chairman of a budget subcommittee on prisons, said he prefers to have inmates housed in state institutions because "our guys are a little more aware of what's going on" in handling inmates.
And Rep. Pat Colloton, chairwoman of the House Corrections and Juvenile Justice Committee, suggested the state needs to provide more training to county jails staff.
"The facility was fine, but you still need people trained enough to know how prisoners act," Colloton, a Leawood Republican, said of Ottawa County. "We haven't really focused on that."
Barclay said the Department of Corrections has had informal, internal discussions since the escape about undergoing more training.
Undersheriff Bill Mueller of Cowley County, where the jail was holding more than 40 state inmates as of Wednesday, said those offenders do not seem more dangerous than county prisoners. The Cowley County Jail opened in 2008 and has space for 220 inmates, with a staff of 26.
Mueller said Cowley County isn't rethinking its contract with the state to house its inmates.
"We've not had any significant problems with them," he said. "There's no significant difference overall."
Copyright 2018 The Associated Press. All rights reserved. This material may not be published, broadcast, rewritten or redistributed. We strive to uphold our values for every story published.