Topeka — Democratic legislators criticized Republicans over Friday's first of 5 planned statewide court closings and furloughs of court employees.
"It is inexcusable that more than 1,500 Kansans are home without pay and public services are being denied while the governor and legislative Republicans sit on a $500 million surplus," said Senate Minority Leader Anthony Hensley, D-Topeka.
State Sen. Tom Holland, D-Baldwin City, said, "Everyday Kansans are being hurt by the inability to access the courts in a timely manner."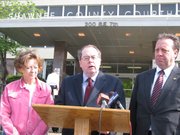 The furloughs were ordered by Kansas Supreme Court Chief Justice Lawton Nuss after the Legislature failed to approve a supplemental budget that included $1.4 million to help the judicial branch meet payroll for the remainder of the fiscal year, which ends June 30.
Nuss warned legislators that the judicial system needed the funding because of lower than expected case filings.
But a budget deal broke down at the final moment before the Republican-dominated Legislature adjourned March 30 for its annual break.
The cause of the collapse was an impasse had erupted over school funding. Both House and Senate budget negotiators had agreed to provide $24.6 million to schools for unexpected expenses in the current year.
The House wanted to divert transportation funds for the schools, while the Senate wanted to use general revenue dollars. The Senate negotiators urged funding the schools and then deciding on the method of funding during the wrap-up session, which starts April 25. But House Republican leaders rejected that idea and the Legislature adjourned without passing a bill that the court system said it needed.
House Speaker Mike O'Neal, R-Hutchinson, said the courts could use internal funds to avoid the furloughs, but Nuss has said he didn't want to transfer funds dedicated for specific purposes to general operating expenses. Gov. Sam Brownback, a Republican, has steered clear of the funding battle, saying only that he was confident the Legislature would reach a budget agreement during the wrap-up session.
But meanwhile, Democrats said taxpayers will be the losers over the fight.
Legislative Democrats held news conferences outside Shawnee, Wyandotte and Sedgwick county courthouses.
They said Kansans will be unable to access a wide variety of services on court closure days getting marriage licenses and orders dealing with child support. The remaining court closures are April 27, May 11, May 25 and June 8.
Copyright 2018 The Lawrence Journal-World. All rights reserved. This material may not be published, broadcast, rewritten or redistributed. We strive to uphold our values for every story published.