Topeka — State officials want to remind drivers that there are nearly 30 public tornado shelters along the Kansas Turnpike where motorists are encouraged to ride out dangerous weather.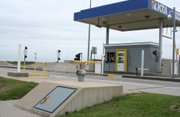 "Our biggest problem is getting people to do something safe," said Lisa Callahan, a spokeswoman for the Kansas Turnpike Authority. "Mostly people just want to keep driving."
The shelters are located in service areas and toll plazas along the 236-mile turnpike, which runs from Kansas City, Kan., to the Oklahoma border south of Wichita.
Callahan said turnpike employees are reminded every year where the shelters are so they can take motorists there if necessary. New employees are given a tour of the shelters and are tested to make sure they can lift the lid to the entrance.
Most of the shelters are in the restrooms of the main buildings in the turnpike service areas. The turnpike has service areas in Belle Plaine, Towanda, Matfield Green, Emporia, Topeka and Lawrence, The Wichita Eagle reported Tuesday.
Most of the shelters are underground and are accessed by opening a hatch and climbing down a short ladder. At least 20 people can fit comfortably in the smallest shelters, and more if circumstances require it, Callahan said.
The shelters at the turnpike's toll plazas generally are smaller, she said. Every turnpike toll plaza has a tornado shelter except Tonganoxie/Eudora. They were built for the safety of the toll plaza workers, Callahan said, but motorists seeking shelter will be welcomed as well.
There are no storm shelters along Interstate 70 or any highways controlled by the Kansas Department of Transportation, state officials said.
Copyright 2017 The Associated Press. All rights reserved. This material may not be published, broadcast, rewritten or redistributed. We strive to uphold our values for every story published.