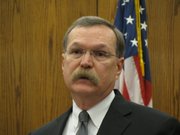 Topeka — Kansans won't have access to the state judicial system for five days because of the budget meltdown in the Legislature.
Kansas Supreme Court Chief Justice Lawton Nuss on Wednesday said he would order Kansas courts shut down and 1,500 employees furloughed without pay.
The closings and furloughs are set for Friday, April 13, and then every other Friday on April 27, May 11, May 25 and June 8.
The action is necessary, Nuss said, because the Legislature adjourned last week for its annual break without approving a $1.4 million supplemental appropriation for the judicial branch.
Because of a drop-off in case filing fees, the judiciary doesn't have enough money to meet payroll through the fiscal year, which ends June 30, he said. The furloughed workers will essentially be taking a 10 percent pay cut for five pay periods.
"The court has looked at a number of available options and, frankly, all of them are lousy," Nuss said.
"The Supreme Court simply believes it has no real choice but to act now, rather than face the uncertainties of what may happen when the Legislature returns," he added.
The Legislature reconvenes April 25 for its wrap-up session with a heavy agenda that includes the state budget, proposed tax cuts, redistricting, school finance and other items.
House speaker says closings unnecessary
On Friday, legislators failed to approve a supplemental budget when a deal fell through at the last minute. House Republican leaders balked at the proposal because of a dispute over school funding.
Nuss and other court officials repeatedly warned legislators that without an appropriation by March 31 closings and furloughs would occur.
But House Speaker Mike O'Neal, R-Hutchinson, on Wednesday said courts could use other internal funds to avoid closings.
"The court's decision to furlough, due to budget restraints is, according to our budget staff, unnecessary," O'Neal said.
O'Neal said the court system had funds available to manage cash flow and noted that Nuss had already told the Legislature that some of those funds were being tapped to cover shortfalls.
But Nuss said the court system's funds are dedicated for specific purposes that have been mandated by the Legislature. He said the House has made clear that it doesn't want the courts overturning how the Legislature allocates funds.
At least 40 affected in Douglas County
Nuss said that on furlough days judges would be working in their offices and handling essential, emergency situations. Judges will not see a pay cut because under the Kansas Constitution their salaries cannot be reduced unless all state officers' salaries are reduced.
Chief Douglas County District Court Judge Robert Fairchild said the furloughs would affect at least 40 employees at the Douglas County Courthouse.
"I think it's very frustrating when a branch of government has to shut its door because another branch of government isn't dealing with the issues there," Fairchild said. "I know it will be frustrating for people whose cases will be continued."
Nuss said if legislators and Gov. Sam Brownback approve a budget quickly when the Legislature reconvenes, Nuss could rescind the remaining furlough days.
But, Nuss said, he didn't want to wait to take action. "If we gamble on getting the supplemental appropriation when the Legislature returns, but something arises that prevents it, then the impact on our employees is more severe over the time that is left," he said.
In a prepared statement, Brownback said he was confident legislators would reach a budget agreement during the wrap-up session. But Brownback steered clear of the judicial funding issue, saying, "We do not foresee this short delay in the budget agreement affecting any services the executive branch provides."
Budget breakdown
The Legislature adjourned last week after a budget breakdown.
House and Senate negotiators appeared ready to approve a deal for current year supplemental appropriations. Then House Republican leaders backed off signing the drafted budget.
While both the House and Senate agreed to allocate $24.6 million to public schools in the current year to cover unexpected costs, the sides disagreed on the method of funding.
The House wanted to take the money from the transportation department, while the Senate and Brownback proposed using general state revenues.
Senate negotiators wanted to defer a decision on the source of the school funds until the wrap-up session. But House Appropriations Chairman Marc Rhoades, R-Newton, said that would have put the House at a disadvantage because if no agreement could be reached, the funding method would have defaulted to Brownback's position, which was the same as the Senate's.
On Wednesday, House Minority Leader Paul Davis, D-Lawrence, said, "We must properly fund the court system so that every Kansan has access to justice. There is no excuse for the Legislature failing to pass a supplemental appropriation in its regular session so that these furloughs and closures would have been avoided."
Some legislators, including Davis, have said House Republican leaders were using the budget impasse to create political leverage on other issues, such as redistricting. O'Neal has denied that assertion.
In 2010, courts had four days of employee furloughs as the state faced a budget crisis. Now, however, the state has a projected an ending balance for the current fiscal year of approximately $500 million.
On Wednesday, Nuss said he didn't want to criticize the legislators but added, "I hope they act quickly to fund the judicial branch of our government."
Copyright 2018 The Lawrence Journal-World. All rights reserved. This material may not be published, broadcast, rewritten or redistributed. We strive to uphold our values for every story published.