A throng of cadets, colonels and spectators stood at the top of a cliff. On the plain below, two cadets crawled through a patch of mud, got up, sprinted, then clambered up the hill using a rope for support. Their muscles were throbbing; their bodies were heavy. But above them, the crowd cheered.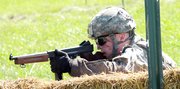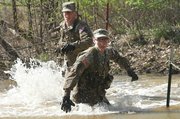 "Come on!" they screamed. "All you've got to do is sprint."
The cadets climbing the hill were Stuart McConnell, and John Bergman, both of Kansas University. And they were just two among many competing in Saturday's 18th annual Best Ranger Buddy Team Competition at Clinton Lake. Twenty-nine schools from 13 states took part.
The Ranger Buddy Competition kicked off at 5 a.m., with a 15-kilometer ruck march. The grass was wet with dew and it was still dark outside as the cadets ran with 35-pound rucks slung on their shoulders.
McConnell and Bergman, who were the winners in the all-male category last year, placed first in the ruck run. And though it was challenging, they were ready. The duo had trained for the event by running with 50- and 60-pound rucks so the actual event wouldn't be as tough. The KU cadets trained most days of the week, no matter the weather.
"We always train with the elements because you never know what the weather will be like," McConnell said.
The weather on Saturday was kind: temperatures in the 80s, with a consistent breeze.
In the Best Ranger Buddy Team Competition, there were seven round-robin contests and two endurance runs. All of the round-robin lanes were designed to replicate a real-life battle.
"We try to incorporate a lot of history to tie today's generation with the ones that preceded it," said Lt. Col. John Clark, the Army ROTC Admissions Officer for KU.
In some cases, cadets were forced to complete both physical and mental challenges within the same round robin.
"This is a great training event for the real world," Bergman said. "In real combat you're going to be doing physical things, and you're going to have to make quick decisions on your feet."
Cadet Brenna Goodman, from the University of North Dakota, was one of last year's female winners.
"Every time you come into a competition like this, you know mentally it's going to be tough," Goodman said. "But it's really hard to find strategies to overcome it, especially when you're really exhausted and dehydrated."
The event took its toll on some. Two people had to be escorted to the hospital: one with a head injury, another with a possible broken ankle.
Despite the hardships, the cadets kept moving.
"When it's all over, you feel such relief," Goodman said. "You can finally stop and think about everything you did that day."
Copyright 2018 The Lawrence Journal-World. All rights reserved. This material may not be published, broadcast, rewritten or redistributed. We strive to uphold our values for every story published.