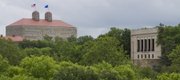 Subscribe to the email edition of Heard on the Hill and we'll deliver you the latest KU news and notes every weekday at noon.
Your daily dose of news, notes and links from around Kansas University.
• If there's anything you can count on me to deliver for you, it's an opportunity to munch on doughnuts from Joe's Bakery.
Beginning at 9 a.m. on Saturday before the KU-Texas Tech homecoming football kickoff at 11 a.m., you can stop by the Hawk's Nest on level one of the Kansas Union and pick up some yummy, tasty doughnut holes using the original Joe's Bakery recipe.
The Kansas Memorial Unions, which, as you may recall, purchased the doughnut recipes, along with the Joe's neon sign at an auction earlier this year.
At the time, a unions representative told me they'd be using the recipe for only special occasions. And homecoming is definitely one of those special occasions.
Be forewarned, though. You might want to get there early. They'll be giving them away only while their supply of 300 lasts.
• And if that's not enough to get you in the mood for homecoming weekend, there's some pretty spiffy chalk art on Wescoe Beach these days after KU students participated in a competition earlier in the week.
If you haven't been on campus, you can find some good photos of their work on the KU Alumni Association's Flickr account.
• The always-great KU Collegiate Veterans Association is looking for a few people who might be able to help them out with an event they're hoping to coordinate for Veterans Day.
The group is hoping to conclude a week of activities and events leading up to Veterans Day with a walking tour of the war memorials on campus.
They would like to have at least one friend or family member of a KU student or faculty member who died in each memorialized war to talk about that person and what the memorial means to them personally.
The problem? It's not the easiest thing to find these people, so Jake Robinson, the vice president of the organization, came to me and asked if I'd help.
He probably knows that I don't know very much, but Heard on the Hill tipsters are some of the smartest people around.
So if you know anyone who might fit what they're looking for, you can contact Jake at jake.robinson@kuveterans.org.
• If you see me waiting for doughnut holes on Saturday, come up and say hey. You could also take the occasion to give me a tip for Heard on the Hill, or you could just do that the regular, old, boring way, by sending me an email at ahyland@ljworld.com.
Copyright 2018 The Lawrence Journal-World. All rights reserved. This material may not be published, broadcast, rewritten or redistributed. We strive to uphold our values for every story published.