Photo Gallery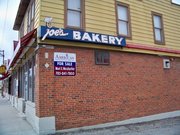 Crews remove Joe's Bakery sign from building on West Ninth Street
Crews from Full Bright Sign & Lighting removed the famous Joe's Bakery sign from its former home on West Ninth Street March 9, 2011. The sign was cleaned up and will join the KU Memorial Unions history collection.
On the street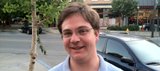 I have a Ken Griffey Jr. rookie card.
The sign that lit the way for many Kansas University students to get a late-night fix for doughnuts, egg salad sandwiches and other munchies at Joe's Bakery is headed to KU.
The KU Memorial Unions purchased the blue neon Joe's Bakery sign that hung on the east side of the building at 616 W. Ninth St. at an auction for $1,000, said Mike Reid, director of communications for the KU Unions.
"I'm just tickled to death," said Ralph Smith, son of Joe Smith, who opened the Lawrence bakery in 1952. He bought the restaurant from his father, and would later sell it to other owners before it closed for good in October 2007.
The doughnut shop was quite popular among students, Reid said, likely because of its late hours of service. He said members of the Class of 1961, back on campus for their 50-year reunion recently, listed Joe's Bakery as among of their top 10 memories of KU.
The purchase of the sign included about 50 recipes that came with the sign, and the rights to use the Joe's Bakery name when selling the doughnuts.
"They're covered with gunk," he said. "You can tell they've been used."
But don't expect to see Joe's doughnuts popping up at, say, the Crimson Cafe in the Burge Union any time soon, Reid said, though they will use the recipes for special occasions.
That includes at 3 p.m. Thursday, when the sign will be unveiled at the Hawk's Nest on the first floor of the Kansas Union. Free Joe's doughnut holes will be provided to anyone who wants some, while quantities last, and some of Ralph Smith's children are scheduled to attend.
There's no secret to the recipes, Reid said — other than hard work — adding that one would likely go on display with the sign.
The funds used to purchase the sign came from KU Memorial Unions' own funds, which are drawn from student fees and sales from the Unions' operations — which include KU Dining Services, bookstores and other small stores on campus, Reid said.
Ralph Smith said he remembered the store fondly, and essentially grew up there, watching his father work. He said he thought KU was a good place for the sign.
"I remember Wilt Chamberlain walking through the doors," he said.
Copyright 2018 The Lawrence Journal-World. All rights reserved. This material may not be published, broadcast, rewritten or redistributed. We strive to uphold our values for every story published.