Topeka — With the Big 12 realignment storm apparently subsiding, higher education officials in Kansas on Wednesday looked like folks climbing out of a cellar -- relieved and happy, but wary of the possibility of more bad weather.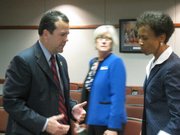 "We're glad the Big 12 is staying together and that KU and K-State stay together," said Board of Regents Chairman Ed McKechnie.
Texas A&M;'s intention to leave for the Southeastern Conference led to weeks of speculation that Texas, Oklahoma, Texas Tech and Oklahoma State were going to join the Pac-12.
But the Pac-12 announced late Tuesday it would stay at 12 members. And Texas started making sounds that it was willing to share some TV revenue with other conference members, although none from its new Longhorn Network deal with ESPN.
During the realignment-rumor drama, Gov. Sam Brownback, McKechnie and university officials all publicly stated they wanted the remaining Big 12 schools to stay together, and for KU and KSU to stay together in the league.
And that's how it has apparently turned out, at least for the near term. "That is ideal for us," said KU Chancellor Bernadette Gray-Little.
She said staying in the Big 12 was important because being in a less prominent league may have reduced KU's visibility to some potential students.
Resolution of the issue, McKechnie said, "let's us focus back on academics. I feel better today than I have in five weeks."
The regents went into a 30-minute closed session with Gray-Little, KU Athletic Director Sheahon Zenger, their counterparts at K-State, and attorneys from the two schools.
McKechnie said the schools are reviewing their contracts with the Big 12 but he wouldn't elaborate any further. He also wouldn't comment on whether Big 12 Commissioner Dan Beebe should keep his job. "I want people who solve problems," he said.
He said the Big 12 schools need to increase their commitments to each other, especially in building academic ties.
He noted no Big 10 school thought about leaving that conference. "That's what we need to get the Big 12 schools to be," he said.
"I realize that in this conversation, football is king, basketball matters, but most importantly what matters is the academics," he said.
And, he said, it wasn't a fight that KU or K-State wanted.
"The people who all were fighting are the people who have the revenue. The people who don't have the revenue weren't fighting," he said.
Libby Johnson, president of the KU student body, said the developments concerning the Big 12 have been a major topic of discussion.
"The student body is definitely concerned about it and paying attention," Johnson said.
Johnson said she hoped KU stayed in the Big 12. "The Big 12 has served KU students well," she said.
Copyright 2018 The Lawrence Journal-World. All rights reserved. This material may not be published, broadcast, rewritten or redistributed. We strive to uphold our values for every story published.