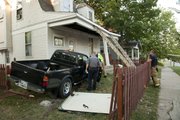 Lawrence police Friday were investigating whether alcohol played a factor in the Thursday evening crash in which a man drove his truck into a porch on Sixth Street.
Police identified the man as 51-year-old Charles Sowell, of Lawrence.
Sowell was taken to Lawrence Memorial Hospital for treatment of minor injuries, said Capt. Paul Fellers, a police spokesman. No other injuries were reported, although the man's black pickup truck and the porch in the 400 block of West Sixth Street sustained significant damage.
"It's being investigated in terms of whether or not (alcohol) was a factor," Fellers said.
Police said the man was driving the truck east on Sixth Street when he crossed the center line, traveled across both westbound lanes and eventually struck the porch.
"It crashed into the gate and just destroyed the porch," said Zakada Fitzgerald, who witnessed the crash from across the street.
Copyright 2018 The Lawrence Journal-World. All rights reserved. This material may not be published, broadcast, rewritten or redistributed. We strive to uphold our values for every story published.